Streeting's 'true colours' have shown themselves on repeated occasions
Blairite Labour MP Wes Streeting, the Shadow Health Secretary who has accepted large sums from donors with private health interests, has stated publicly that he would like to be PM – a confession that will surprise very few people in a newspaper puff piece that will surprise no one, given the frequent attempts of the media to talk up the archetype of right-wing, visionless vacuity into a future Labour leader.
But Streeting's record reveals a nature very different from the persona his media fans present. In 2018, Streeting launched a tirade in the face of Britain's first Black woman MP, Diane Abbott, after she talked in the Commons chamber about support she had received from Jewish constituents – a tirade that eye-witnesses said was 'disgraceful' and 'disgusting', leaving Abbott 'shell-shocked'.
Streeting denied Skwawkbox's exclusive revelations of his conduct at tried to use legal threats to force Skwawkbox to retract the article. Instead, this site stood its ground and the legal threat came to nothing.
An image posted by Christine Dawson in response to the report of Streeting's ambition listed other worrying comments: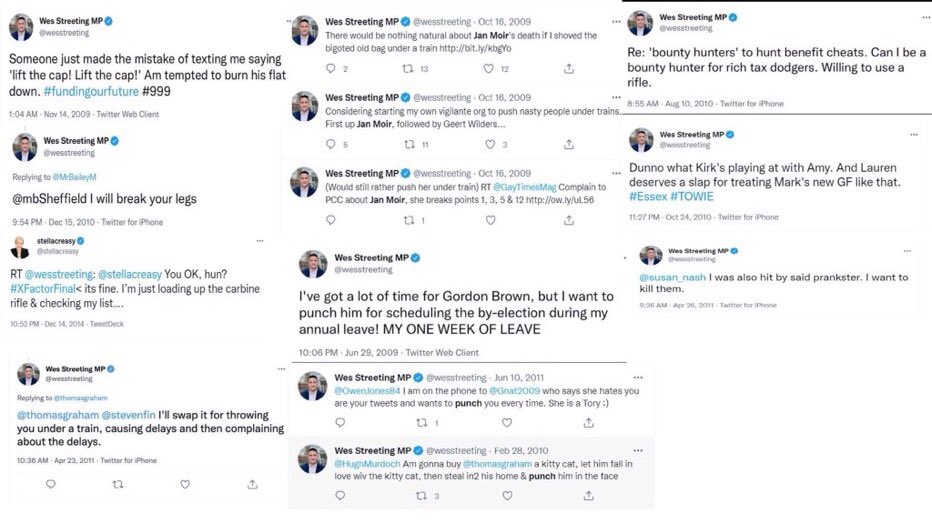 Streeting has also been slammed previously for a slur against dementia sufferers. Quite apart from his character deficiencies, his readiness to accept cash from private health industries and his expressed determination to increase NHS privatisation make him deeply dangerous to ordinary people as a potential Health Secretary, let alone as Prime MInister.
But Streeting's wrongs are anything but out of line with his faction: like Streeting, party leader Keir Starmer has accepted substantial donations from private health interests, is committed to the use of private providers in the NHS – despite promising the opposite to con Labour members into voting for him to be party leader. Starmer has covered up abuse of women while welcoming back into the party MPs, staff and candidates with records of racism and sexual harassment, while his regime has blocked Black members from selection as parliamentary candidates and even deselected Black and Muslim councillors en masse in areas with high numbers of Black and Muslim residents.
When are the 'mainstream' media going to start doing their actual job?
SKWAWKBOX needs your help. The site is provided free of charge but depends on the support of its readers to be viable. If you'd like to help it keep revealing the news as it is and not what the Establishment wants you to hear – and can afford to without hardship – please click here to arrange a one-off or modest monthly donation via PayPal or here to set up a monthly donation via GoCardless (SKWAWKBOX will contact you to confirm the GoCardless amount). Thanks for your solidarity so SKWAWKBOX can keep doing its job.
If you wish to republish this post for non-commercial use, you are welcome to do so – see here for more.