Fazakerley 'Community Independent' candidate wins support of community leaders and generates campaign 'buzz' – and Starmer's Labour press-gangs councillors into canvassing in what was one of the safest seats in the country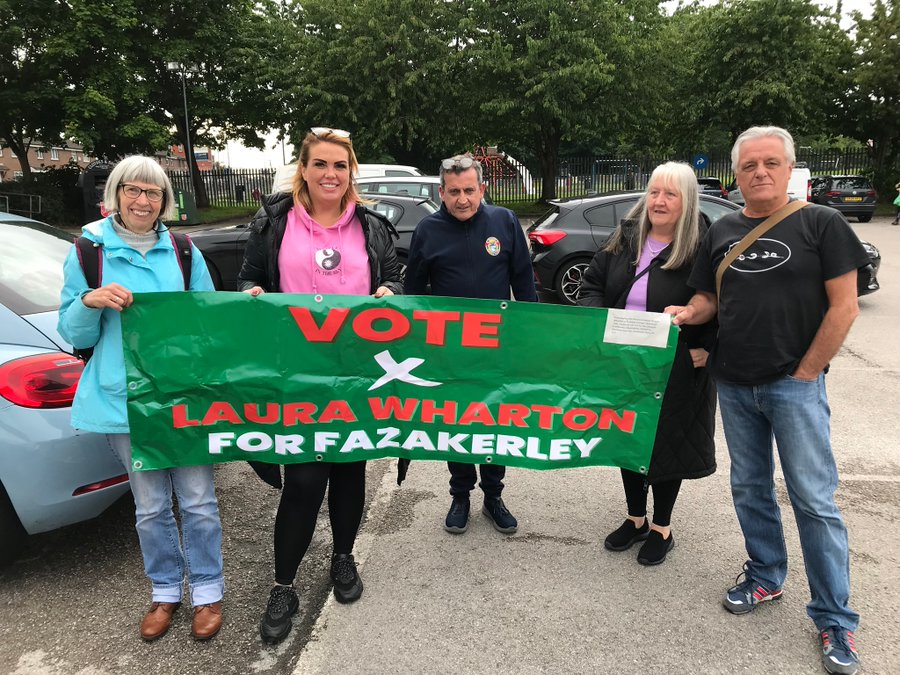 A panicked Labour party has imposed a three-line whip to force Labour councillors to campaign in Liverpool's Fazakerley ward – a council seat that ha previously been one of the party's safest in the UK, with a 68% Labour majority the last time residents went to the ballot box.
Something appears to be happening in Liverpool – and it seems that the Independent candidate Laura Wharton has Keir Starmer's party and its representatives in the region seriously worried.
Wharton, a community worker, is a former Labour member and is backed by the Liverpool Community Independents group, which formed as part of the rebellion against Labour's Starmer-approved swingeing cuts in this year's budget.
£11.7 million of those cuts were signed off by Social Care and Health Cabinet member Frazer Lake – who is a Fazakerley councillor. To add to the controversy and Labour's out-of-touch appearance, the party's candidate Helen Stephens was selected despite having resigned in pique over members' decision not to select her in neighbouring Warbreck. According to Labour's rules, candidates must have at least twelve months' uninterrupted membership to stand – unless, apparently, you are a Starmer-backing right winger.
The lively Laura Wharton campaign has seen campaigners gathering outside local schools to explain the likely impact of the City Council's £16 million energy bill fiasco on school budgets. Wharton has the backing of the major community figures in the ward.
Jean Martin worked as manager of Fazakerley Community Federation for thirty-five years. She said recently:
I am supporting Laura because she is for our people and our community. I've worked with Laura over the lockdown for the past two years and we've stayed friends.

Laura's played a big part in our partnership work. She knows the community really well. She will do a first-class job for this community.
Rona Heron, manager of the Fazakerley Community Library until recently, said:
I'm backing Laura Wharton as an Independent councillor for Fazakerley as she's exactly what the community needs. Laura is hard working, transparent and will continue to protect the local Library and community assets from being under threat of closure. Laura will defend what is right for the community and will be visible at all times unlike the current councillors. Laura is an expert at community engagement.
Fazakerley Well-Being CIC works in partnership with Fazakerley Wombles and Friends of Seeds Lane Park with the goals to improve local parks' cleanliness and improve facilities whilst bringing existing facilities back into community use. The CIC's Scott McAllister said:
For too long, Fazakerley has been neglected, but by working together we can change that. Laura Wharton genuinely cares about people. She has spent her life supporting those in need. I know that she will work with residents and community groups to give Fazakerley the representation we deserve. Please give Laura your support on Thursday 30th June.
Alfie Hincks, managing director of Seascope Maritime Training, and a local resident and Everton councillor, brought Newhall pool, closed by Labour for eleven years, back to life. He said:
Our Community in Fazakerley worked with the Federation delivering 350 food parcels a week during the pandemic. The Labour Cllrs were nowhere to be seen. I brought the swimming pool back to life and there are now swimming sessions for the community. Fazakerley deserves better than Labour. Fazakerley deserves Laura Wharton.
More and more Labour members and officers across the city have also been resigning their membership in order to campaign for Wharton and support the Community Independents group.
The use of a three-line whip – the heaviest the party can bring to bear – on councillors to force them to campaign in the ward shows a remarkable level of fear among the party's hierarchy of what may be happening in Fazakerley and suggests that the party is struggling to find anyone willing to do the yards to go door to door for a party whose leader has declared war on the city.
That this is happening in Liverpool, usually a Labour stronghold, is remarkable – but that drought, along with the resulting use of councillors to try to fill the yawning gap, has been seen all over the country for months now, even in parliamentary by-elections, as Starmer's lack of principle, backbone and substance bites.
SKWAWKBOX needs your help. The site is provided free of charge but depends on the support of its readers to be viable. If you'd like to help it keep revealing the news as it is and not what the Establishment wants you to hear – and can afford to without hardship – please click here to arrange a one-off or modest monthly donation via PayPal or here to set up a monthly donation via GoCardless (SKWAWKBOX will contact you to confirm the GoCardless amount). Thanks for your solidarity so SKWAWKBOX can keep doing its job.
If you wish to republish this post for non-commercial use, you are welcome to do so – see here for more.