A thread by a union officer, amplified by a head teacher – and president of the teachers union NEU – has exposed outright lies by the Department for Education's 'propaganda unit'.
Robin Bevan highlighted a thread by NEU executive member Karam Bales, tagging in the Department for Education (DfE) and taking it to task for its 'outright lie':
The DfE's claims are wholesale fiction, as Bevan pointed out – with no extra funding, no extra staff and no extra classroom space, the Tories are simply lying about the situation in schools.
Of course, this was already clear from Boris Johnson's infamous visit to a packed classroom in a school that was shortly afterward hit by a coronavirus outbreak.
The consequences of the Tories' lies that schools are safe and their determination to keep them open can be easily seen in the catastrophic rise of infections in schools – which is the key driver of the second wave of the coronavirus pandemic now ravaging the country, as Office for National Statistics (ONS) graphics posted in response to Bales's original thread make clear:
Those graphics, when seen in full, show that infections among school-age children have rocketed more than twice as fast as in the next worst-hit age group: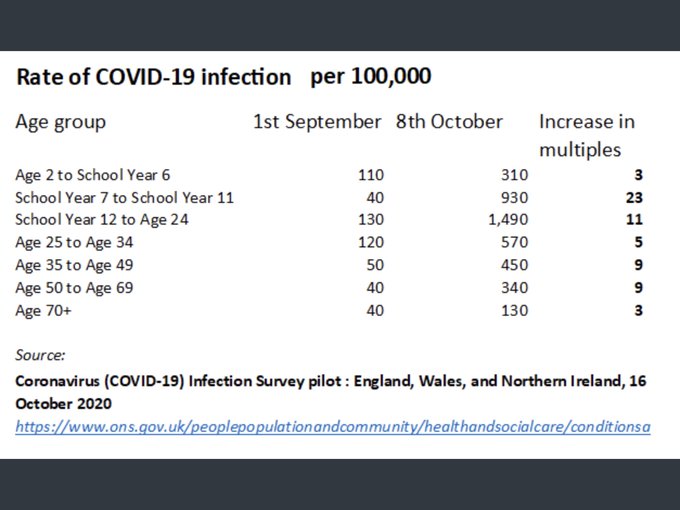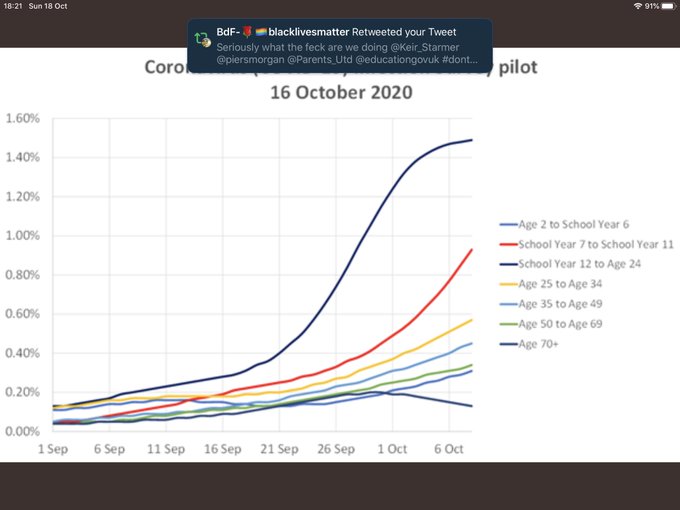 In fact, infections among schoolchildren represent almost a third of the more than 300,000 people in the UK currently infected with the virus, according to ONS figures and outbreaks in schools have risen exponentially.
Yet the Tories continue to lie shamelessly to the public – and remain determined to keep children in schools regardless of reality, making both a sham and a scam of their supposed localised measures to reduce the 'R rate' of growth in the second wave.
The SKWAWKBOX needs your help. The site is provided free of charge but depends on the support of its readers to be viable. If you can afford to, please click here to arrange a one-off or modest monthly donation via PayPal or here to set up a monthly donation via GoCardless (SKWAWKBOX will contact you to confirm the GoCardless amount). Thanks for your solidarity so SKWAWKBOX can keep bringing you information the Establishment would prefer you not to know about.
If you wish to republish this post for non-commercial use, you are welcome to do so – see here for more.