Johnson's access to Cygnus results – hushed up by Tory government – and other intelligence means he cannot plead ignorance
Boris Johnson's government supposedly u-turned on its original plan to let the UK population to achieve so-called 'herd immunity' after a study by academics revealed that it would kill hundreds of thousands of people and potentially more.
The SKWAWKBOX had warned of the consequences the moment Johnson's advisers. Johnson described it as 'taking it on the chin':
In reality, the Tories have not changed their plan – only the language they use to describe it. Their 'flatten the curve' plan still assumes 80% or more of the population will catch the virus – it just spreads the 'peak' out over a longer period, which will save some lives by reducing the load on hard-pressed NHS hospitals.
But even with the best care and no overload, the rate at which the virus kills victims could mean as many as two million deaths – just in a number of smaller peaks instead of one big one:
But Johnson's original plan didn't even allow for saving the lives of even the small percentage of sufferers that the revised 'herd' plan will.
Six years ago the Tory government conducted 'Exercise Cygnus' – a dry-run to 'game out' the impact of a similar pandemic on the UK's people and the ability of the NHS to cope.
Boris Johnson had full access the Cygnus data and even more information long before he appeared on television to chat happily about 'taking it on the chin'. He knew that the unchecked spread of the virus was going to look like this – and that with a global mortality rate of 2-3%, it would mean as many as 1-2 million deaths:
As the pandemic took huge tolls in other countries, Johnson and Matt Hancock spent weeks doing nothing, fully intending to let the virus run its course and kill as many as it could: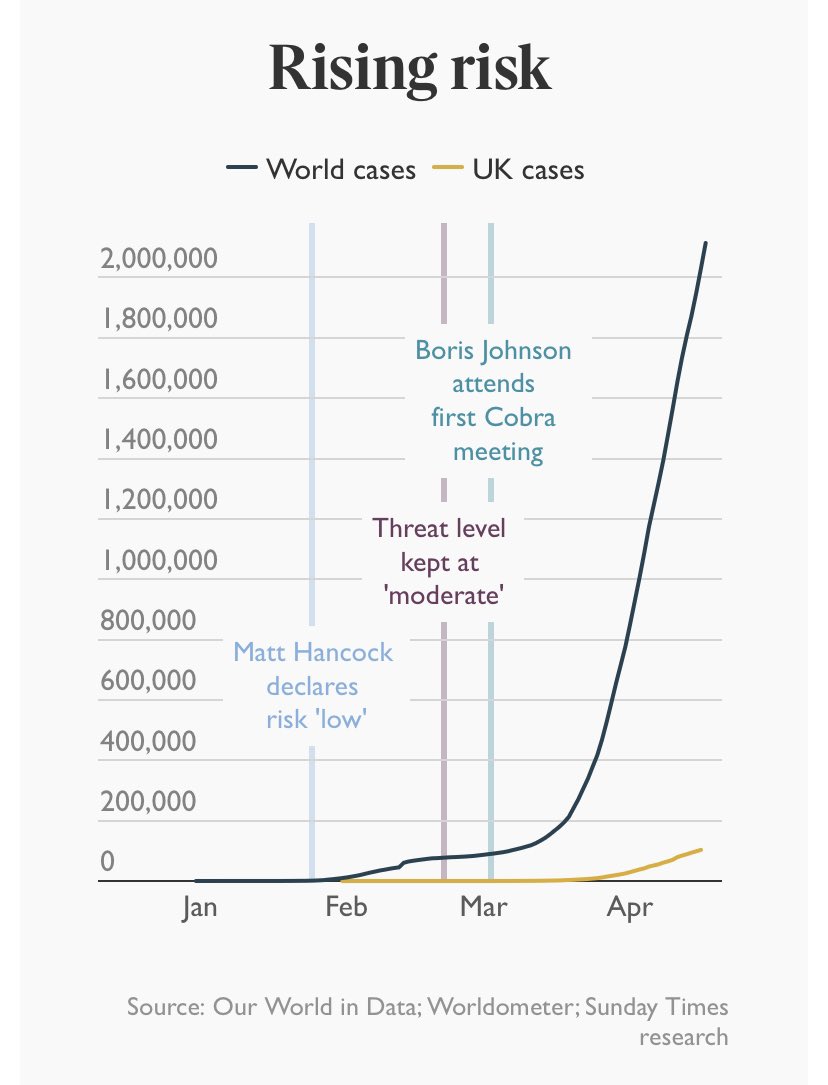 Johnson even boasted about his intention of doing so and compared himself to Superman:
And even now, they are knowingly leaving such gaping holes in the lock-down that the spread of the virus is guaranteed – lack of protective equipment for hospital staff, care home workers, community health workers, prisons and other front-line services, together with a reckless and deliberate decision to allow flights even from global virus hotspots without even the token of a temperature check.
On top of this is a decision to send old people back to care homes even when they are known to be infected, creating a hidden holocaust with thousands of nursing homes seeing outbreaks and double-figure deaths 0 and a determination to hide many deaths when the UK's real death toll is several times higher than the official figure.
And it is capped by the continuing decision to ignore the World Health Organisation's strategy of 'test and trace' to find and isolate all those who are infected – a strategy that has meant South Korea has almost eliminated transmission without any lockdown.
Such knowing, uncaring recklessness is a political matter – but even more than that, it is a criminal one.
The SKWAWKBOX needs your support. This blog is provided free of charge but depends on the generosity of its readers to be viable. If you can afford to, please click here to arrange a one-off or modest monthly donation via PayPal or here for a monthly donation via GoCardless. Thanks for your solidarity so this blog can keep bringing you information the Establishment would prefer you not to know about.
If you wish to reblog this post for non-commercial use, you are welcome to do so – see here for more.