Johnson's slowness to accept the inevitable has set UK on a path to huge avoidable tragedy
Boris Johnson's slowness to act on a lock-down of the UK to combat the spread of the coronavirus has cost over 60,000 lives, according to a new study published to the Medrxiv site pending peer review.
The holes he has left in anti-transmission measures, such as:
are likely to increase that number.
The study took the UK's initial confirmed situation on 28 February – and its modelling was a good match to the actual situation by 23 March, the day before the UK lockdown:
Applying the estimated parameter values and assigning hospitalised cases on 28 February as 10 severe, 4 critical, and 5 recovered, the constrained Maximum Likelihood estimates for that date are 1627 infected and 532 mild (see Methods) and the predictions give a reasonable approximation to deaths in the period to 23 March.
The study modelled the spread of the virus, at different levels of lock-down and with varying lock-down dates, and found that locking down just a week earlier would have led to an eventual death toll in this phase of the pandemic of around 18,500 – compared to an expected 81,000 under Johnson's eventual 24 March start date:
An extract of the report explains:
Figure 2 shows the results of a model run with these initial conditions, and a lockdown assumed to reduce [transmission factors] to 20% of its estimate throughout a 12 week period 24 March – 16 June. Severe cases rise throughout the lockout, reaching nearly 63,000 by the end. Likewise critical cases rise throughout, reaching nearly 37,000, and total deaths exceed 81,000.

…

These results are very sensitive to the starting date of the lockdown. If the 20% lockdown began one week earlier, on 17 March, cases and deaths would still rise throughout the 12 weeks but the totals on 9 June would be around 16,500 severe and around 9,250 critical cases, and 18,500 deaths.
And if Johnson's lockdown had been more complete – plugging the gaping holes listed above, then the total deaths would have been lower still. The study found that reducing the transmission factors to 10% of their original value before the lock-down instead of 20% would reduce the total deaths to a fraction of the likely outcome now:
For a 10% lockdown beginning on 17 March, severe cases peak on 26 March at under 5,900 whilst critical cases peak on 5 April at 2,800 and total deaths by 9 June are 5,200.
Astonishingly, in February Johnson was boasting about his plans to avoid any kind of prevention measures – claiming that this would give the UK an international business advantage:
The full report and extract can be read here.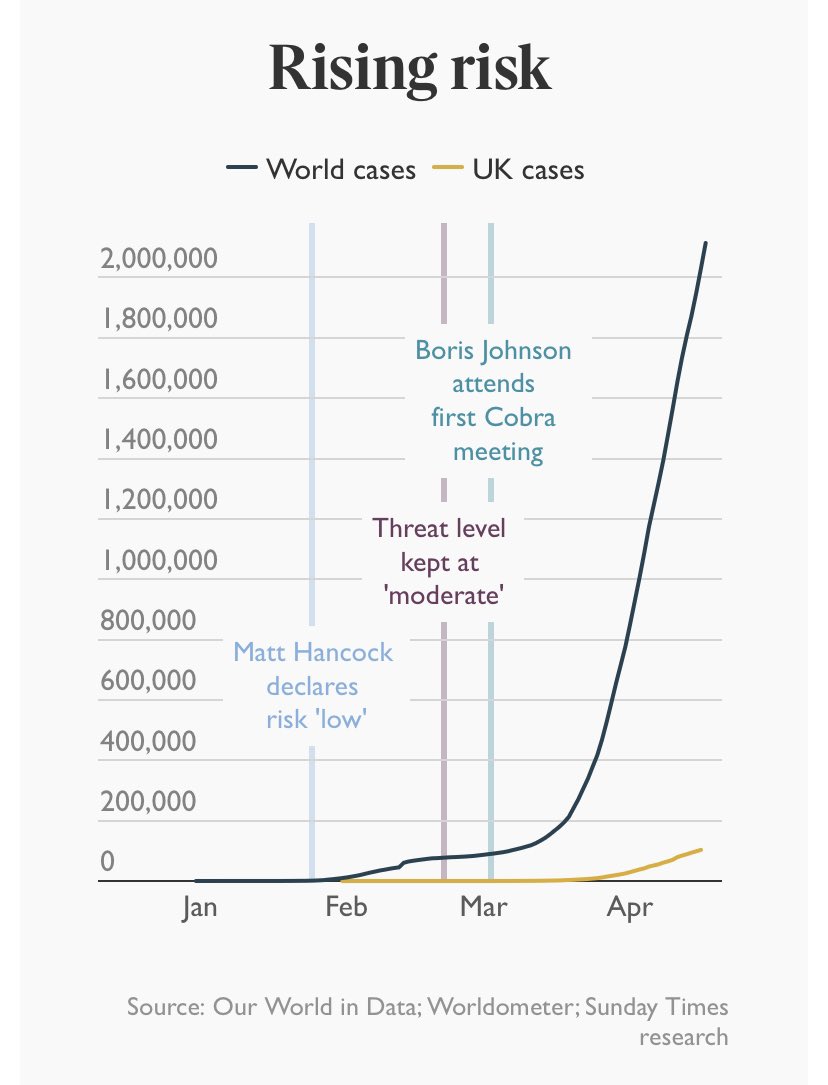 The SKWAWKBOX has always warned that Johnson's 'herd immunity' plan – which involves almost everyone in the country becoming infected – was never abandoned and that the Tories and their media allies had simply started using new language to describe it.
That continues to be the case, as the government's half-hearted and tortoise-like move to a lock-down – in spite of knowing 6 years ago what would happen if a pandemic hit a UK whose health and public services have been fragmented and stripped to the bone – demonstrates. But the scale at which Johnson's recklessness and laziness are costing UK lives is glimpsed in a study that crystallises the impact of even just a week of Tory foot-dragging, dishonesty and incompetence.
The SKWAWKBOX needs your support. This blog is provided free of charge but depends on the generosity of its readers to be viable. If you can afford to, please click here to arrange a one-off or modest monthly donation via PayPal or here for a monthly donation via GoCardless. Thanks for your solidarity so this blog can keep bringing you information the Establishment would prefer you not to know about.
If you wish to reblog this post for non-commercial use, you are welcome to do so – see here for more.