Union now paying more to Labour in affiliation fees than under McCluskey
Unite's funding to the Labour party has increased in recent months, with the union giving almost £750,000 to the party in the last two months of last year compared to £663,122 donated under Len McCluskey in the first eight months of 2021, according to Electoral Commission figures.
The donations are fees paid by the union for affiliation to the Labour party: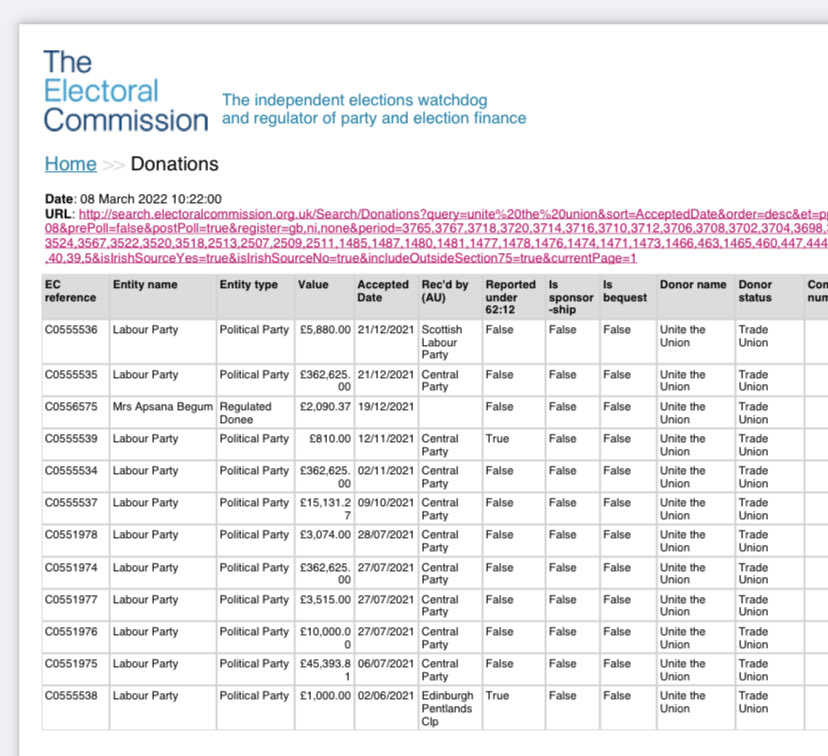 In late 2020, McCluskey cut donations to the party significantly because of Keir Starmer's hard lurch to the right compared to his leadership campaign promises. Ms Graham said recently that Unite would cut political funding to the party and campaigned for the general secretary position on a platform of peeling the union away from 'Westminster politics'.
Other unions have already cut their donations to the party. The Bakers' union disaffiliated entirely last year. The Communication Workers' Union's conference slashed funding to the bare minimum and the GMB, which ended donations to London Labour in protest at the Labour right's treatment of workers, is said to be close to withdrawing its donations altogether, with GMB head Gary Smith furious at Starmer's cosiness with Rupert Murdoch.
SKWAWKBOX needs your help. The site is provided free of charge but depends on the support of its readers to be viable. If you'd like to help it keep revealing the news as it is and not what the Establishment wants you to hear – and can afford to without hardship – please click here to arrange a one-off or modest monthly donation via PayPal or here to set up a monthly donation via GoCardless (SKWAWKBOX will contact you to confirm the GoCardless amount). Thanks for your solidarity so SKWAWKBOX can keep doing its job.
If you wish to republish this post for non-commercial use, you are welcome to do so – see here for more.