Unite general secretary campaign's storming start continues
Howard Beckett's flying start to the nominations phase of the Unite general secretary election continues. Nominations opened on Thursday and continue until early June, but already at least eight branches have nominated Beckett out of the 174 needed to confirm Beckett's place on the ballot.
And the nominations will worry Beckett's rivals. While opponents' supporters spread smears about Beckett's intentions for Unite's unique Community section – presumably recognising that it is a natural Beckett constituency – his decision to take the smears head on and his plan, on the record long before the election began, to build up and empower it seem to have ensured that the lie wouldn't land.
The first branch to nominate, meeting on the day the process opened, was Unite Community Bath and Bristol – which voted by a margin of three to one to nominate Howard Beckett – and today the Tom Stokes Unite Community branch in Ireland voted unanimously in his favour.
On the other side of the Irish Sea in Wales, the Airbus Broughton branch – the biggest Unite branch in Wales – has nominated Beckett. In Scotland, COTA offshore, GSK Irvine and Petro INEOS branches have already added their names to the list of nominations.
In England, NHS Leicestershire branch and N57 North Nottinghamshire, a geographical branch, have also given him their support today.
At the time of writing, none of the other three would-be candidates had posted news of nominations on their timeline.
Members who want their branch to nominate can find a guide below. If you are a Unite member, details of your branch can be found here.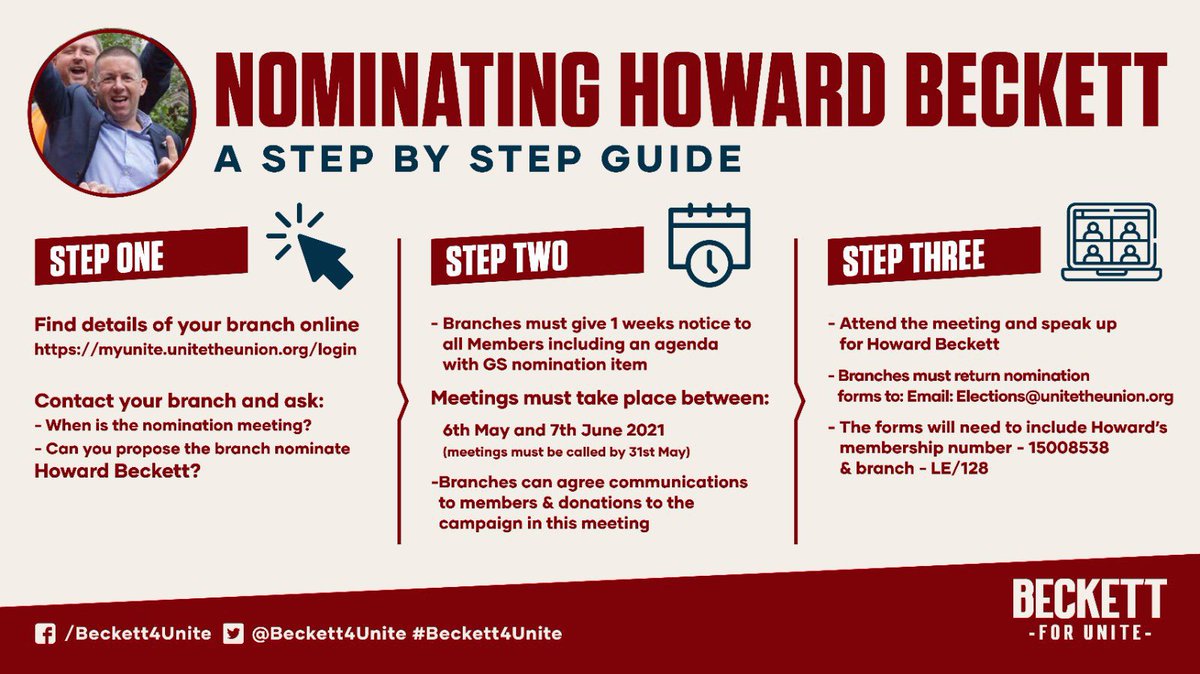 Skwawkbox is supporting Howard Beckett to be Unite's next general secretary.
The SKWAWKBOX needs your help. The site is provided free of charge but depends on the support of its readers to be viable. If you can afford to without hardship, please click here to arrange a one-off or modest monthly donation via PayPal or here to set up a monthly donation via GoCardless (SKWAWKBOX will contact you to confirm the GoCardless amount). Thanks for your solidarity so SKWAWKBOX can keep bringing you information the Establishment would prefer you not to know about.
If you wish to republish this post for non-commercial use, you are welcome to do so – see here for more.