Jeremy Corbyn's lawyers are preparing action against Tory MP Richard Holden, pictured above, according to Labour insiders. Holden posted a vile Facebook comment about Corbyn in response to a constituent who had demanded protection for human rights against the Conservatives' 'Policing, Crime and Sentencing Bill, which will target Gypsy Travellers as well as punishing protesters with a ten-year prison sentence for merely annoying someone.
Holden posted: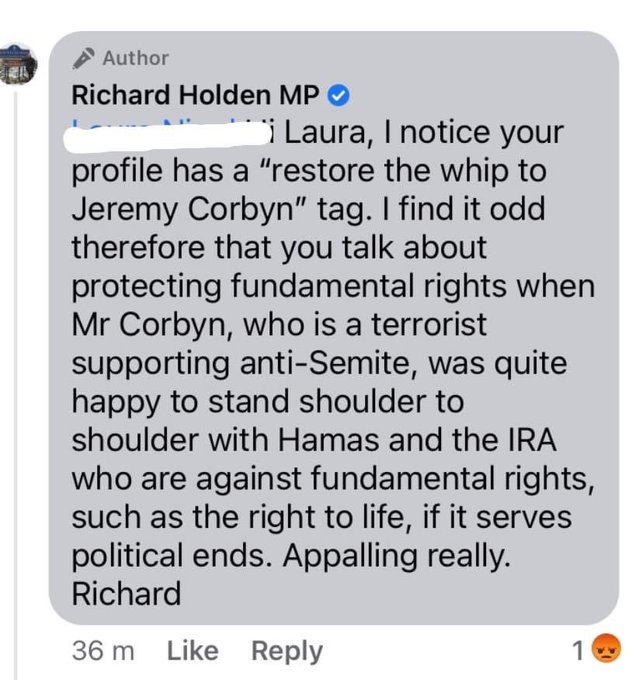 'Disgrace' Holden was taken to task on Twitter by Corbyn's son Tommy, who pointed out that such inflammatory and arrogant nonsense has consequences and that his dad has already been the target of at least two attacks by right-wing idiots:
But SKWAWKBOX understands that Corbyn's lawyers are also on the case, so the 'consequences' may not be to his Holden's liking.
In 2018, Holden's Tory colleague Ben Bradley posted one of the most 'successful' tweets in Conservative party history when he had to admit, five days after saying it, that his libel against Jeremy Corbyn had been 'seriously defamatory', 'wholly untrue and false' – and ask readers to 'Please retweet', after he had ludicrously claimed that Corbyn had been a Czech spy. The tweet was shared at least 60,000 times.
Corbyn, whose supporters raised a huge amount of cash to defend him against legal action, has already received offers to help fund action against Holden, via a crowdfund.
The SKWAWKBOX needs your help. The site is provided free of charge but depends on the support of its readers to be viable. If you can afford to without hardship, please click here to arrange a one-off or modest monthly donation via PayPal or here to set up a monthly donation via GoCardless (SKWAWKBOX will contact you to confirm the GoCardless amount). Thanks for your solidarity so SKWAWKBOX can keep bringing you information the Establishment would prefer you not to know about.
If you wish to republish this post for non-commercial use, you are welcome to do so – see here for more.