Murdoch paper claims 'collapse' in member support for party leader – but it's same as in both previous leader elections
There are defining moments in politics – and one has probably occurred in the attempt by the Murdoch Times on Sunday night to claim that there has been a 'collapse' in support for Labour leader Jeremy Corbyn among the party's members. And not just a claim, but a blaring (or should that be 'Blairing') front-page headline: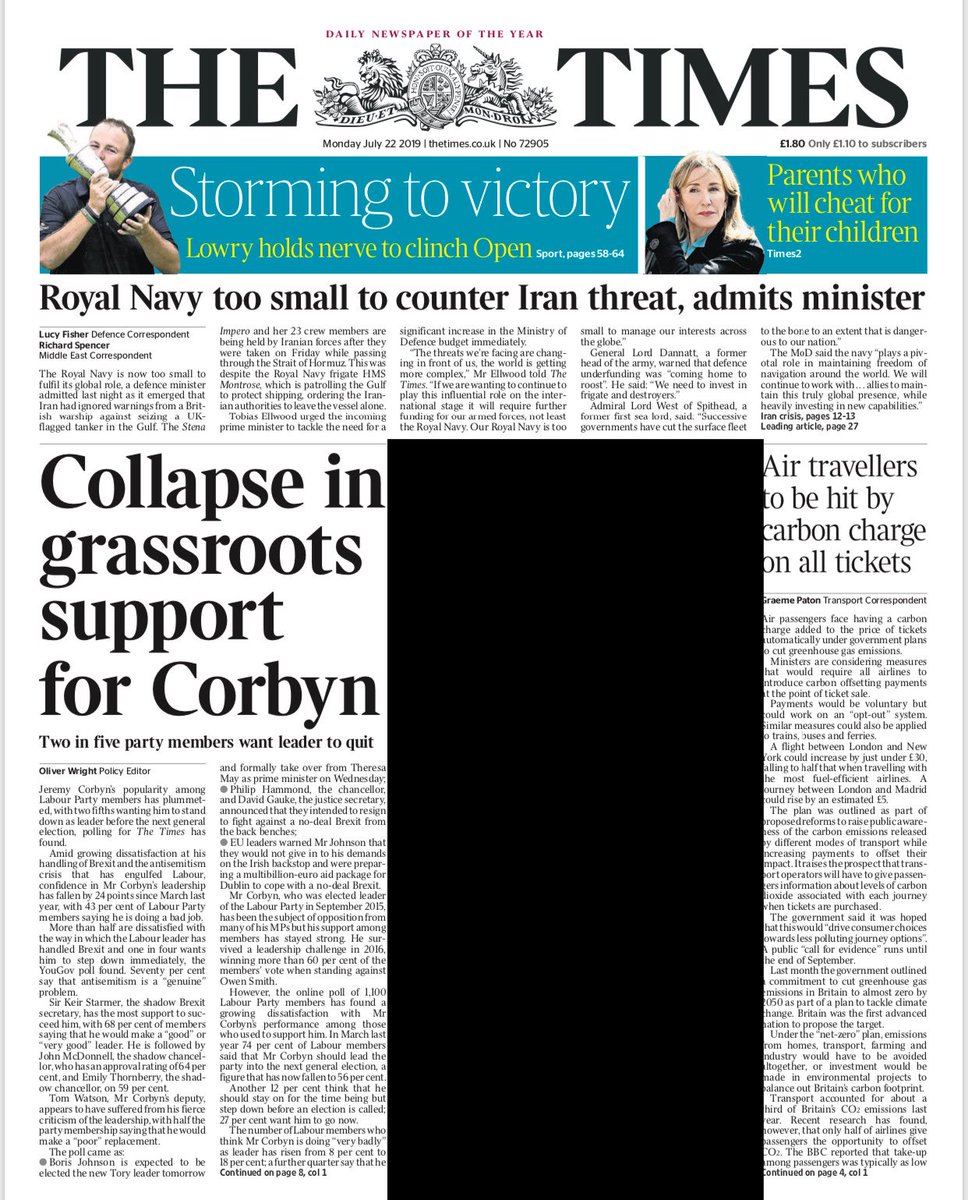 The 'basis' for this claim is a survey by Tory-run polling company YouGov showing that 'two in five party members want leader to quit'.
The article goes on:
Jeremy Corbyn's popularity among Labour Party members has plummeted, with two fifths wanting him to stand down as leader before the next general election, polling for The Times has found.
'Plummeted'. Right.
Jeremy Corbyn has been directly to Labour members twice, first in the 2015 leadership election and then in the 2016 'chicken coup' challenge. On the first occasion, Corbyn won the votes of 59.5%. On the second, he took 61.8%.
In other words, on both occasions 'two in five party members' didn't want Corbyn as leader – and three in five did. In electoral terms that's a huge, emphatic majority. And the same proportions apply to the new survey.
The results of those two elections and the Times' poll are shown in the graph below:
Meanwhile, Tom Watson's support has dropped significantly, although the YouGov results certainly understate the level of disgust among party members with Watson – and dramatically so. Watson would be humiliated if he was brave enough to make the leadership challenge against Corbyn that some have been predicting.
Add in the fact that YouGov regularly understates Labour's popularity by several points and Corbyn would score more highly with a different pollster – and the Times article looks like an embarrassing desperate smear.
Embarrassing enough to mark a defining moment? Potentially.
The accurate headline
Twitter user @CorbynHope 'fixed it' for the Times, posting an alternative headline that accurately reflected not just the members' support but the wider context and landscape that has prevailed ever since Corbyn won his first 'three in five' in 2015:
Jumping the shark
The phrase 'to jump the shark' refers to the point at which a TV series' premise becomes stretched so thin that the writers introduce ridiculous plotlines in a desperate attempt to hold their viewers' attention – and the credibility of the show is destroyed.
An attempt to portray a horizontal line – maintained against a ceaseless flood of 'MSM' effluent – as a 'plummet' is the media equivalent.
Small wonder that Labour continues to lead in voter polls, in spite of the non-stop smears and ever more desperate attacks.
The SKWAWKBOX needs your support. This blog is provided free of charge but depends on the generosity of its readers to be viable. If you can afford to, please click here to arrange a one-off or modest monthly donation via PayPal or here for a monthly donation via GoCardless. Thanks for your solidarity so this blog can keep bringing you information the Establishment would prefer you not to know about.
If you wish to reblog this post for non-commercial use, you are welcome to do so – see here for more.