Plans – and track record already achieved – go against Starmer's visionless drabness and would raise question: why can't all Labour mayors do the same?
North of Tyne mayor Jamie Driscoll has published the statement he sent to the Labour party about his candidacy for North-East Mayor – just before Starmer's party barred him from standing: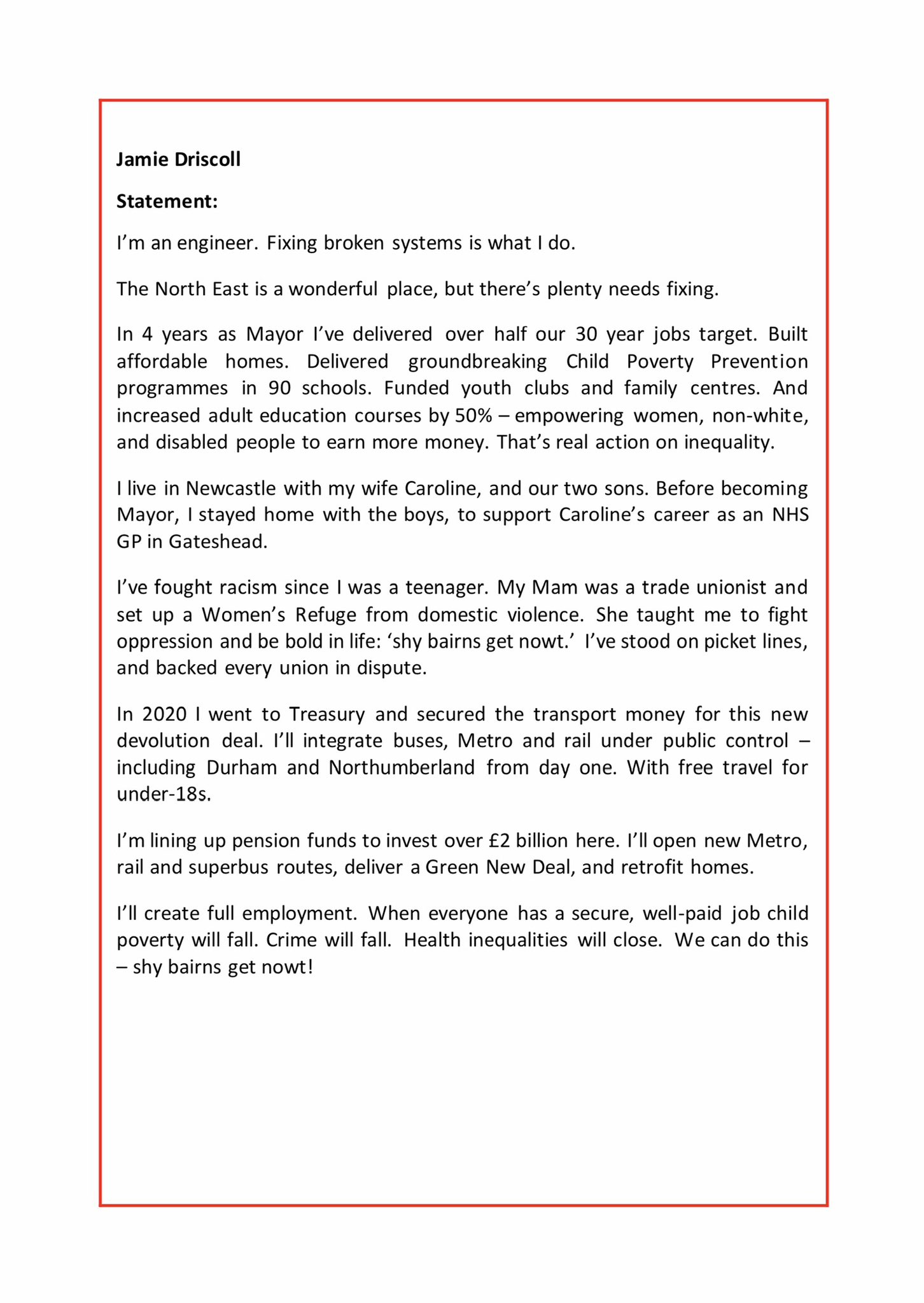 Such is Driscoll's confidence in his record and plans that he has also tweeted the statements of his rivals to show party members what they would be choosing from if Starmer's regime were not so cowardly and contemptuous of democracy.
And his own statement shows exactly why the party really wants to bar him from standing – despite the endless smear campaign right-wing MPs and officials are now trying to mount against him. Driscoll not only has plans that make Keir Starmer's 'more of the same but draped in a union jack' look as pathetic as it is, but he has the track record to show it can actually be done – such as achieving half his 30-year jobs target for the region in just a few years.
Starmer and his leech-like hangers-on are terrified of actual vision and actual change. It's why they sabotaged Corbyn and why they are now purging the left.
Meanwhile, several unions have reportedly refused to endorse any of the other candidates while Driscoll is barred from the contest – and as can be seen above in the image with Mick Lynch, many of them will clearly be backing only him if Labour backs down. However, the party's cowardice and arrogance are such that doing the right thing seems a very distant prospect.
SKWAWKBOX needs your help. The site is provided free of charge but depends on the support of its readers to be viable. If you'd like to help it keep revealing the news as it is and not what the Establishment wants you to hear – and can afford to without hardship – please click here to arrange a one-off or modest monthly donation via PayPal or here to set up a monthly donation via GoCardless (SKWAWKBOX will contact you to confirm the GoCardless amount). Thanks for your solidarity so SKWAWKBOX can keep doing its job.
If you wish to republish this post for non-commercial use, you are welcome to do so – see here for more.