Newbon inquest rules suicide – but the right are targeting the one man who wasn't even mentioned
Right-wingers, including the 'Labour' right, have again joined with the media in harassing renowned Jewish author Michael Rosen for daring to complain about the racist bastardisation of his work, after Dr Peter Newbon, who published a disgusting image showing Rosen's famous 'Bear Hunt' book as an infamous antisemitic tsarist text loved by nazis and neonazis and corrupting Rosen's text to suggest a 'Jew hunt', was found by the North Yorkshire Deputy Coroner to have committed suicide. The campaign has also extended to Wikipedia, where a page set up for Newbon since the verdict has also linked Rosen to the suicide and Rosen's own page has been edited to link to Newbon's death.
But the facts do not line up with the attack and are therefore being ignored by those with an interest in demonising Rosen – but can be found below.
The timeline
Rosen's interaction with Newbon took place eight months before the latter's death, which was surrounded by a host of more current stressors, but this has not stopped right-wing media levering a mention of his complaint into articles covering the coroner's verdict – and it has not stopped right-wing Corbyn-haters making utterly vile attacks on the 76-year-old children's author, of which only one example is shown below to give a flavour of the nature of the campaign:
But the Coroner did not connect the death of a man facing potential financial and reputational ruin – for his actions toward a separate individual – in any way to either his abuse toward Rosen and Rosen's work, or to Rosen's complaint about that abuse. Rosen was not even mentioned during the inquest, let alone listed as a factor in Newbon's suicide – where a number of other far more current stressors were mentioned, including the fact that Newbon died just after leaving a disagreement with his wife in what was described by the coroner as a 'fragile state', though the cause of the row was not disclosed.
The lawsuit
Newbon had attempted to sue Rosen for describing his actions as antisemitic after Newbon posted an image, which originally showed former Labour leader Jeremy Corbyn reading one of Rosen's books to a group of children, that had been doctored to make it appear as if Corbyn was reading from the notorious nazi text 'The Protocols of Zion'. But that incident had taken place the best part of a year before Newbon's death.
However, right up to the time of his death Newbon was also being sued, along with two other pro-Israel activists, for a string of defamatory posts made endangering yet another person, accusing him of being a 'weirdo' and 'freak' who photographed children. Those posts had led to the innocent man being harassed and threatened in the street.
That case was not going well for Newbon – his two surviving co-respondents in the case have been frantically trying to raise funds and face the possibility of a significant compensation bill; the judge who recently dismissed their 'unattractive' attempts to quash the case by claiming their alleged victim was being 'insufficiently robust and resilient' against their smears, instead concluded that their actions were 'at least likely' to cause him 'serious reputational harm'. Anyone attempting to conduct or fight two legal actions on a lecturer's salary would face considerable financial strain and Skwawkbox understands that Newbon's widow quickly sacked his lawyer after Newbon's death.
'Targeting' Rosen
But while Newbon's supporters tried to claim originally that Newbon's foul 'protocols' post was a 'joke' and had nothing to do with Rosen – despite it featuring corrupted words from Rosen's book as well a photograph that originally showed it – one right-winger at the heart of the mass campaign to smear Corbyn now appears to have let slip that Rosen was indeed being 'targeted' because he was a supporter of Corbyn:
A disciplinary history
Newbon's supporters have also tried to link Rosen to his death by blaming Rosen for Northumbria University's disciplinary action against Newbon for his social media activity. But while Newbon received a 'final written warning' over the 'protocols' tweet, he had received other warnings before that for social media posts – presumably including the sinister posts for which he was being sued. The university monitors the social media activity of any staff who mention it in their profiles, as Newbon did, and had previously warned him over other output.
These facts have not been mentioned, let alone explored, by so-called 'journalists' who have been happy to amplify smears by those targeting Rosen for being a Jew who supports Jeremy Corbyn.
Pressure group
Journalists and Rosen's attackers have described Newbon as a 'campaigner against antisemitism'. But few have pointed out that Newbon was a director of the so-called 'Labour against Antisemitism' (LAAS), an anti-Corbyn, pro-Israel group that was at the centre of the campaign against Corbyn. But more importantly still, LAAS directors have a history of targeting Rosen for abuse.
As well as Newbon's decision to involve Rosen in his anti-Corbyn smear, Rosen has been targeted by at least two other directors of LAAS, as well as numerous supporters. Jonathan Glass has been accused of suggesting he might have attacked Rosen when he saw him in the street 'If my wife hadn't been with me':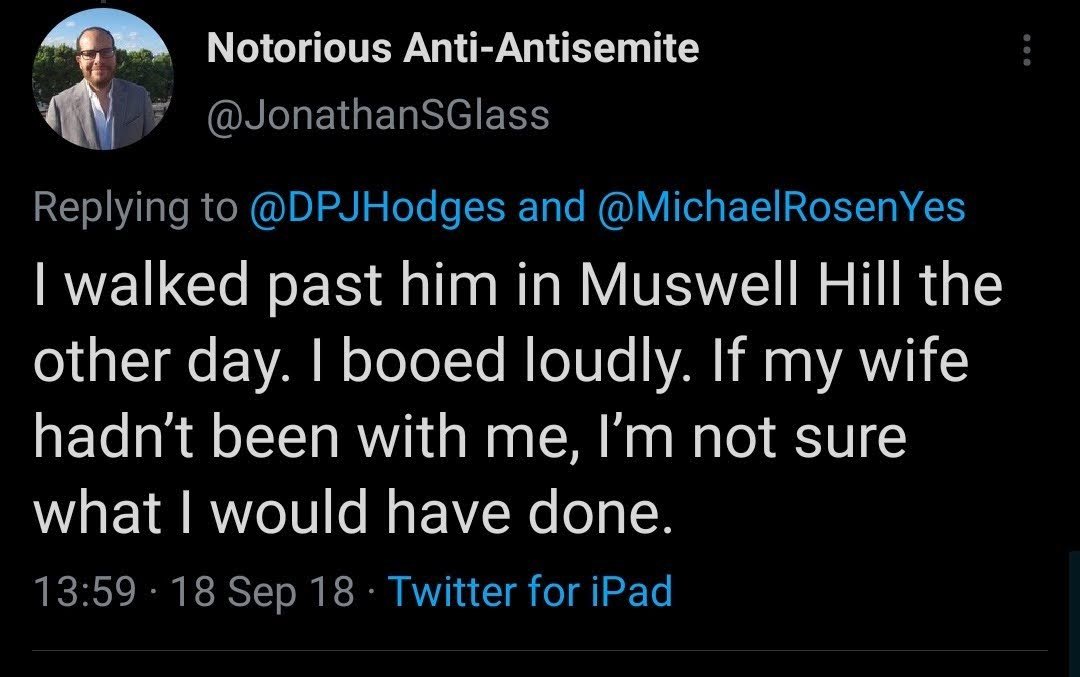 And Glass also posted comments indicating he knew where Rosen lived:
Fellow LAAS director Euan Philipps has targeted Rosen, including asking the BBC to sack him: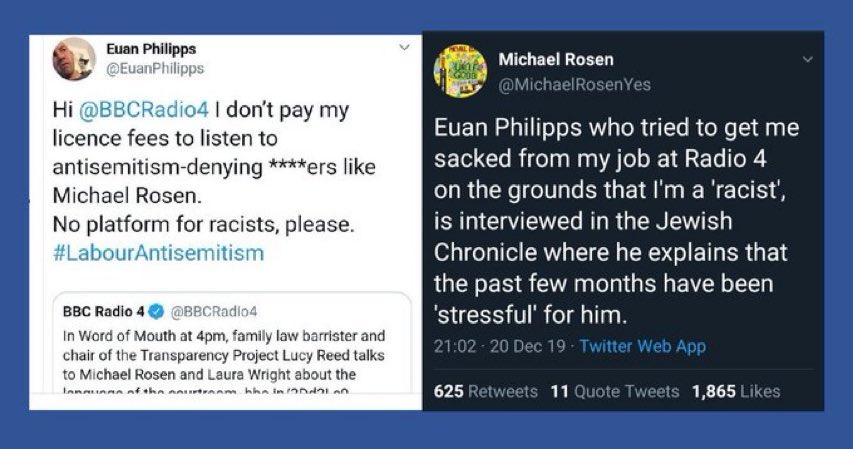 And LAAS director Emma Feltham – who uses the surname Picken on Twitter – has repeatedly attacked Rosen from well before Newbon's death, including specifically for supporting Jeremy Corbyn:
Barrister Jane Heybroek, whose first-hand knowledge of litigation informs her understanding, has published her own analysis of the determination of right-wing campaigners to blame the innocent Rosen for Newbon's death instead of leaving his widow and children to grieve and heal in peace:
Newbon's decision to target Rosen was no 'joke' and cannot be properly understood in isolation. Instead, it forms part of a pattern associated with a particular anti-Corbyn group to whom Rosen was a considerable inconvenience because – though not a Labour member – he was not only a Jew who spoke out for Corbyn against the antisemitism smear, but a popular and highly-regarded public figure.
Such an issue ought to be of essential interest to any self-respecting journalist and ought to be essential context for any reporting of his death that mentions Michael Rosen. That it has been so assiduously ignored and disregarded is essential context for understanding what Newbon's fellow anti-Corbyn campaigners have been so determined to continue his targeting of this widely-loved Jewish author.
Especially when this is not the first time they have ignored all these issues, nor even bothered to ask questions.
SKWAWKBOX needs your help. The site is provided free of charge but depends on the support of its readers to be viable. If you'd like to help it keep revealing the news as it is and not what the Establishment wants you to hear – and can afford to without hardship – please click here to arrange a one-off or modest monthly donation via PayPal or here to set up a monthly donation via GoCardless (SKWAWKBOX will contact you to confirm the GoCardless amount). Thanks for your solidarity so SKWAWKBOX can keep doing its job.
If you wish to republish this post for non-commercial use, you are welcome to do so – see here for more.