Hundreds of thousands of fake followers, with more added if genuine ones leave, but pointing it out gets Brighton leftie blocked
Keir Starmer and his Shadow Chancellor Rachel Reeves – tipped by many as the right-wing choice to succeed him – have blocked a left activist on Twitter after he pointed out that a huge proportion of Starmer's followers are fake, presumably added to make them appear more popular.
Of Keir Starmer's 1.1 million followers, almost 400,000 are fake, according to an assessment platform – 385,000. Brighton activist @damian_from pointed out the rapid growth and asked Twitter to intervene over the breach in its rules:
But his efforts saw both Starmer and Reeves – or whoever manages their Twitter – block his account, perhaps in an attempt to deny him access to their figures in future.
But the 385,000 figure is significant because it maintains a consistent pattern of almost exactly one third of Starmer's followers being fake that has gone on since – at the latest – the beginning of last year, strongly suggesting an intentional programme designed to bolster an impression of popularity.
But that maintenance is also responsive, flexing according to circumstances. Again over to Damian in Brighton:
In fact, the precise numbers even more strongly suggest active maintenance. In the 18-hour period mentioned above, according to the analysis platform, Starmer losts 10,421 genuine followers – and gained… 10,421 fake
Twitter's rules on the use of fake followers are clear: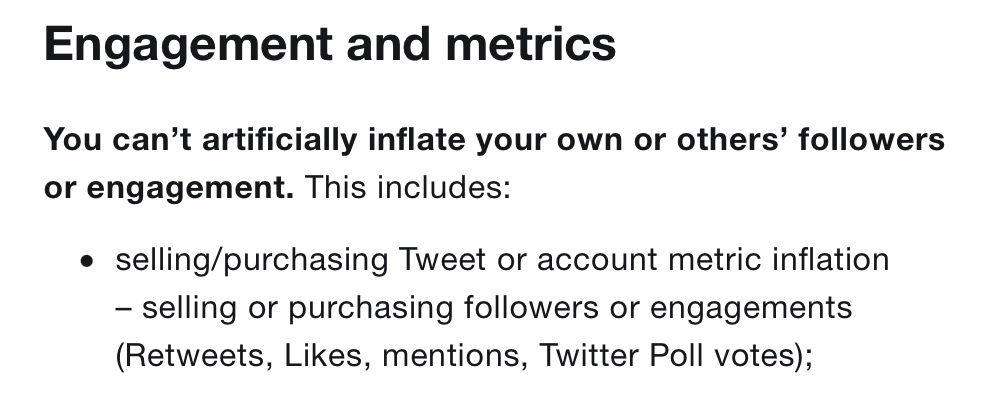 However, Twitter appears to have shown no interest in the requests for action from @damian_from and others.
SKWAWKBOX needs your help. The site is provided free of charge but depends on the support of its readers to be viable. If you'd like to help it keep revealing the news as it is and not what the Establishment wants you to hear – and can afford to without hardship – please click here to arrange a one-off or modest monthly donation via PayPal or here to set up a monthly donation via GoCardless (SKWAWKBOX will contact you to confirm the GoCardless amount). Thanks for your solidarity so SKWAWKBOX can keep doing its job.
If you wish to republish this post for non-commercial use, you are welcome to do so – see here for more.