Labour accused of Islamophobia again
Former Labour councillor Joe Goldberg has boasted of rejoining the party. Goldberg quit in 2018 and attacked the party under Jeremy Corbyn, but has tweeted a picture of a Labour membership card with the comment 'Guess who's back'.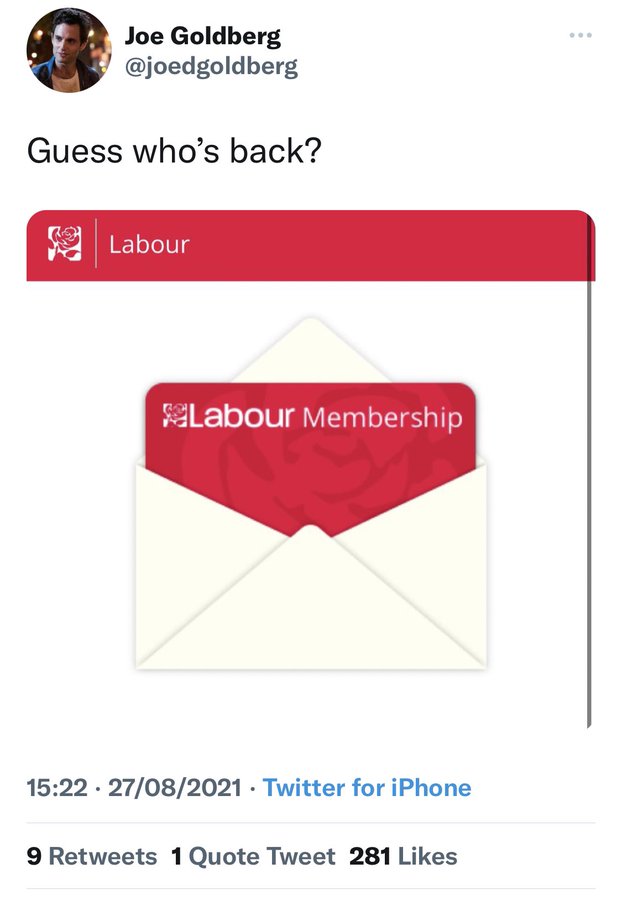 But Emina Ibrahim, Goldberg's former colleague on the council and still a Haringey councillor, has attacked the party's decision to allow Goldberg to rejoin, because of a comment Goldberg made about her on Twitter:
A Labour Muslim Network report last year accused the Labour right of entrenched and growing anti-Muslim racism – a report to which Keir Starmer and David Evans responded by pledging to implement all the report's recommendations without delay. One of the most prominent of those recommendations was the adoption of the All-party parliamentary group on British Muslims definition of Islamophobia. The second paragraph of that definition reads:
Making mendacious, dehumanizing, demonizing, or stereotypical allegations about Muslims as such, or of Muslims as a collective group, such as, especially but not exclusively, conspiracies about Muslim entryism in politics, government or other societal institutions; the myth of Muslim identity having a unique propensity for terrorism, and claims of a demographic 'threat' posed by Muslims or of a 'Muslim takeover'.
Describing pro-Corbyn Muslims as 'Jezbollah', a reference to the Lebanese Hizbollah group, seems to fall foul of this on several points. And Goldberg's tweet featured in both the LMN report and last year's leaked Labour report about sabotage and abuse by right-wing Labour staff.
Goldberg is mentioned some thirty times in the leaked Labour report, both concerning the tweet to Cllr Ibrahim and recommendations that a 'notice of investigation' should be sent to him about a Twitter conversation with a left-wing Jewish council candidate. No such notice was ever issued by the party, despite repeated requests from Labour's then-head of its governance and legal unit.
The reaction to Ibrahim's tweet suggested that Labour members have no expectation that the party will take any action at all in this case either, let alone in accordance with the LMN recommendations:
The 2018 tweet about Emina Ibrahim did not represent an isolated use of the term by Goldberg. A Twitter search at the time of writing turned up some seventeen other instances of 'Jezbollah', dating from before Corbyn was even party leader through to late 2019:
Joe Goldberg was contacted for comment but had not responded by the time of publication. However, he responded to one challenge quoting Ms Ibrahim with a mention of his lawyers:
The Labour party does not comment on individual members, at least officially.
SKWAWKBOX needs your help. The site is provided free of charge but depends on the support of its readers to be viable. If you can afford to without hardship, please click here to arrange a one-off or modest monthly donation via PayPal or here to set up a monthly donation via GoCardless (SKWAWKBOX will contact you to confirm the GoCardless amount). Thanks for your solidarity so SKWAWKBOX can keep bringing you information the Establishment would prefer you not to know about.
If you wish to republish this post for non-commercial use, you are welcome to do so – see here for more.