But not in time to prevent yet more Establishment shame being captured
The BBC has deleted a tweet it posted this evening blaming those holding a vigil for murdered London woman Sarah Everard for shocking scenes of police violence.
The Corporation initially tweeted describing a "confrontation with police at 'unsafe' vigil" – 'confrontation' being a common Establishment media term for one-sided violence by those they support – after police waded into people gathered at a peaceful protest remembering Ms Everard and protesting against violence against women.
The BBC has now deleted the tweet after it provoked outrage, with one claiming that "Clashes break out between police and people attending a vigil for Sarah Everard in Clapham, London", followed by another advising that "This tweet replaces an earlier tweet, which has been deleted following an update to the story's headline":
In tragic irony, footage taken at the vigil included police aggression toward mourners as horrified women called out in protest:
Labour MP Jon Trickett was one of the most outspoken against the conduct of police, pointing as well to the government's 'spycops' bill legitimising state-sponsored violence against members of the public – a bill passed in a vote in which Keir Starmer whipped Labour MPs to abstain:
The Reclaim These Streets group issued a statement condemning the police for 'manhandling women' and working against the vigil instead of working with organisers: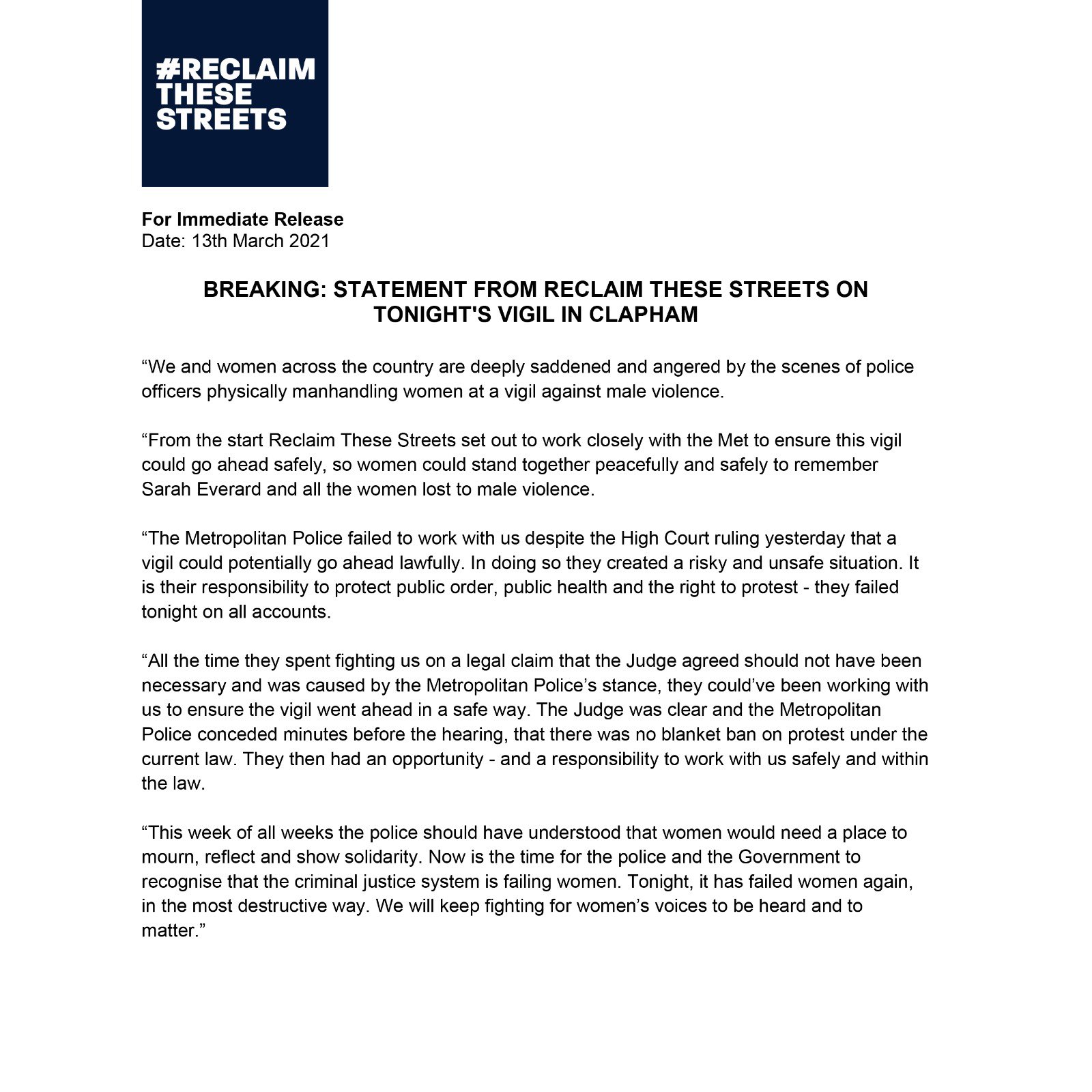 Shame on the BBC and all those complicit in tonight's scandal.
The SKWAWKBOX needs your help. The site is provided free of charge but depends on the support of its readers to be viable. If you can afford to without hardship, please click here to arrange a one-off or modest monthly donation via PayPal or here to set up a monthly donation via GoCardless (SKWAWKBOX will contact you to confirm the GoCardless amount). Thanks for your solidarity so SKWAWKBOX can keep bringing you information the Establishment would prefer you not to know about.
If you wish to republish this post for non-commercial use, you are welcome to do so – see here for more.