Starmer condemned in 'strongest possible terms' by Haldane Society for his actions and inaction – and will not be allowed to rejoin unless a future AGM overturns resolution
Labour leader Keir Starmer has been dramatically kicked out of the venerable Haldane Society of Socialist Lawyers. The society, which was established more than ninety years ago, held its Annual General Meeting last night and decided that Starmer is unfit for membership.
The AGM condemned:
Starmer's 'appalling policy positions'
his manoeuvres to force Labour MPs to support a bill to allow 'intelligence sources' – including civilians – to commit crimes
his disregard for migrants' rights
his assault on free speech
his behaviour over schools during the pandemic
his lack of support for unions
his inaction on anti-Black and anti-Muslim racism
his inaction over abuse of transgender people
Demonstrably not a socialist
The Society also concluded that Starmer is unfit for membership because he is 'demonstrably not a socialist' and is at odds with its principles – and condemned his behaviour 'in the strongest terms':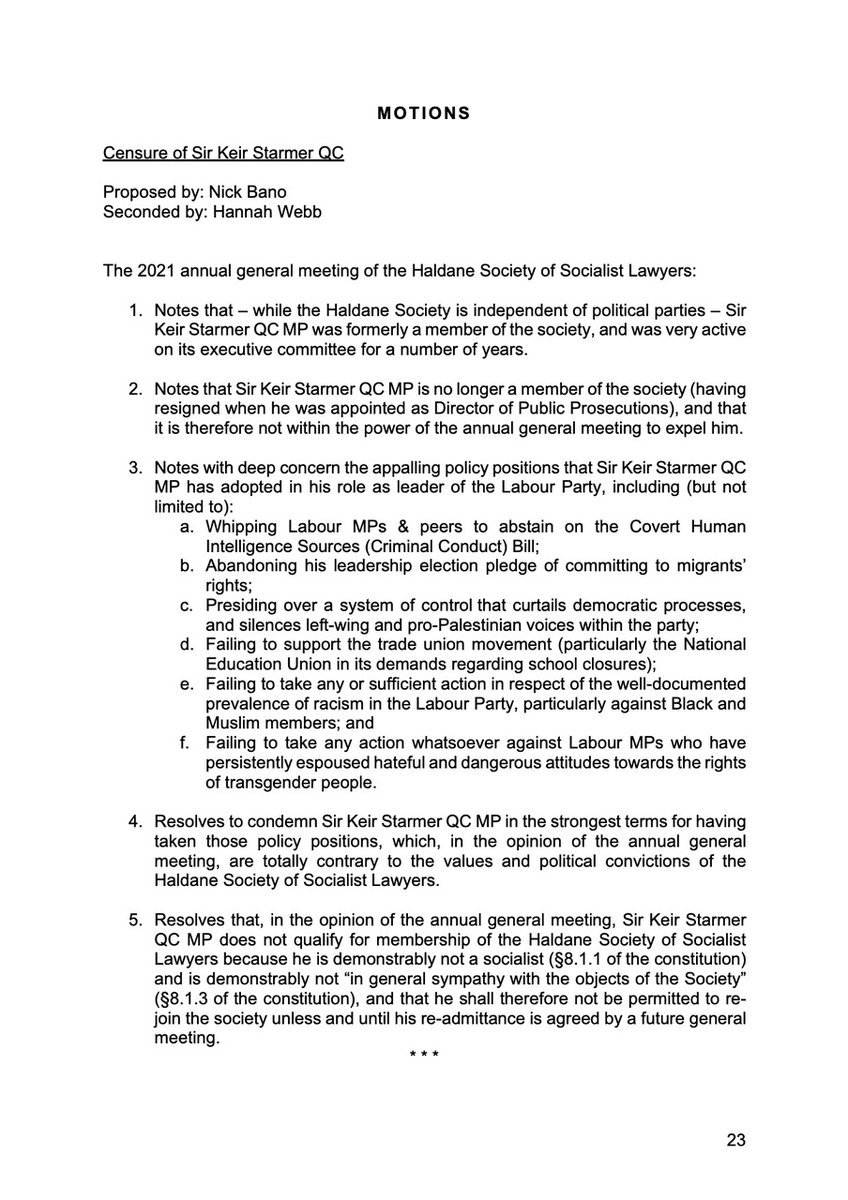 Starmer had resigned from the society when he became Director of Public Prosecutions, so the society was unable to expel him – but he will not be allowed to rejoin in future unless he is able to persuade a future society AGM to overturn the resolution and let him back in.
The SKWAWKBOX needs your help. The site is provided free of charge but depends on the support of its readers to be viable. If you can afford to, please click here to arrange a one-off or modest monthly donation via PayPal or here to set up a monthly donation via GoCardless (SKWAWKBOX will contact you to confirm the GoCardless amount). Thanks for your solidarity so SKWAWKBOX can keep bringing you information the Establishment would prefer you not to know about.
If you wish to republish this post for non-commercial use, you are welcome to do so – see here for more.