After it initially seemed Labour was putting credit where it's due, Green's tone-deaf tweet puts Labour's front bench in the wrong again
In June, after a principled and high-profile stand by footballer Marcus Rashford forced the Tories to u-turn on plans to let poor children go hungry during the summer holidays, Labour provoked outrage by attempting to claim credit for Rashford's success, saying 'We did it':
As so often, Labour's response to the impending crisis was watered down and low profile, while Rashford's direct and vocal approach won the day for poor kids. The response to the 'we did it' tweet was rightly withering, as thousands of respondents hammered the ridiculous claim.
When national protests by thousands of young people forced the Tories into another u-turn last weekend, this time on the government's attempt to steal the grades of hard-working students, it seemed at first that Labour might have learned its lesson.
The initial comments from the party and its leadership congratulated the students on their win – but it wasn't long before Labour's Shadow Education Secretary had turned that into 'we' again, in an appalling 'quote tweet' of a message by her last-but-one predecessor Angela Rayner:
How we forced the Tory government into a u-turn on exams.

Kate Green
Green had sported a sunburn during TV interviews after the Tories' climbdown, but there was no sign of the mask-shaped tan-line one might expect from participation in a protest during a pandemic as opposed to, say, a garden barbecue wearing sunglasses: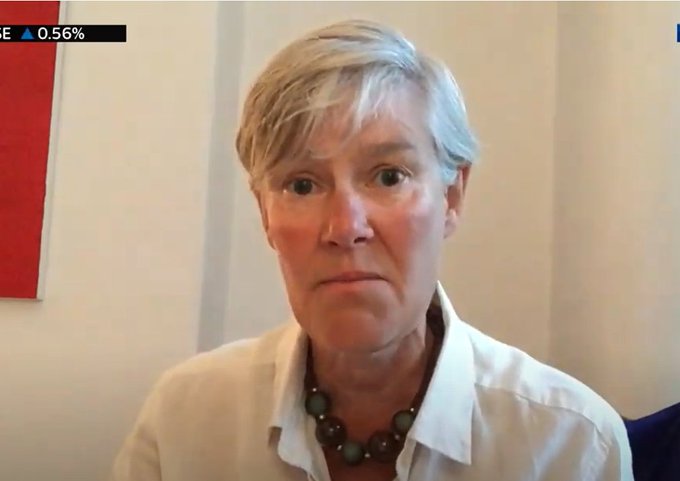 Nor has the SKWAWKBOX been able to find any footage of Ms Green on the streets alongside students.
Green's tweet was 'ratioed', meeting with an almost universally condemnatory response:
A few have tried to defend Labour's 'tactic', claiming it's – well, presumably 'forensic' – to let others do the work and then 'be on the right side of the issue' jump on the bandwagon.
But a Labour modus operandi of doing little or nothing on key issues and then trying to piggy-back the credit when others face down the Tories is simply not going to cut it – it won't fool much of the public at all, nor for very long.
If Labour wants credit for Tory u-turns, it had better be out there on the street and in the media forcing them. This does not mean saying the Tories should be faster or more transparent in doing what they're doing, but rather making and winning the argument about what they should be doing and why. At the moment, such a hope seems tragi-comically forlorn.
The SKWAWKBOX is provided free of charge but depends on the support of its readers to be viable. If you can afford to, please click here to arrange a one-off or modest monthly donation via PayPal or here to set up a monthly donation via GoCardless (SKWAWKBOX will contact you to confirm the GoCardless amount). Thanks for your solidarity so SKWAWKBOX can keep bringing you information the Establishment would prefer you not to know about.
If you wish to republish this post for non-commercial use, you are welcome to do so – see here for more.