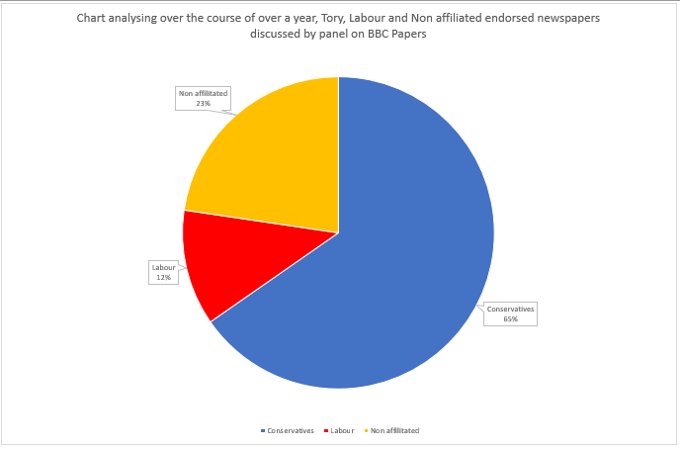 Birmingham-based researcher Chris Murphy took on himself the gargantuan task of monitoring and recording the BBC's daily failures – across a period of a year – to achieve any kind of balance in its coverage of each day's newspaper coverage. What he found was astonishing – and led to a series of complaints to the broadcaster and to broadcast regulator Ofcom.
In a guest article exclusively for the SKWAWKBOX, Murphy details his experience and findings in his daily task – and their culmination:
What I found whilst documenting episodes was quite staggering. It wasn't an isolated incident to find the panel just discussing Conservative party endorsing newspapers in episodes!

Chris Murphy
People from all parts of the political spectrum complain about bias in British state media.
As a person watching plugged into the BBC matrix, it's sometimes hard to see the woods from the trees.
Since being politically active, I wondered about this subject. I'd seen some fantastic work from people doing analysis on BBC politics programs, so armed with my suspicions having watched the odd BBC papers, decided to have a closer look at the output of their night time episodes of the program.
For reasons of validity, reliability and consistency, I specifically monitored their 10.30pm edition.
To help formulate the data in the program, I needed to come up with a measure; the one I decided on was the political parties the newspapers endorsed in the 2017 national general election.
I put these into a table and when a different source was discussed, I added it to the table. 'Non-aligned or 'Non-affiliated' refers to newspapers who didn't endorse a political party.
What I found whilst documenting episodes was quite staggering. It wasn't an isolated incident to find the panel just discussing Conservative party endorsing newspapers in episodes!
It also wasn't unusual to see Labour endorsing newspapers not discussed at all in episodes or less than half the time in a week.
On occasions, Labour endorsing paper/stories were discussed less than 10% the time over the course of a weekly or bi-weekly summary. It wasn't unusual to see Tory papers discussed 6 or more times over the course of the week than Labour ones.
Over the year, I complained to the BBC about the disproportionate representation of Conservatives over Labour on BBC papers, but I witnessed no change in the program output. On one occasion, I managed to get my complaint escalated to OFCOM, where when submitting my complaint to them, was told I was unlikely to hear back about it.
In the belief the BBC regulator OFCOM would address my concerns, I persisted in documenting the programs, but sadly there was no visible change in their output.
After some thought, I decided there was no point in continuing analysing BBC paper output. I made the decision to collate all the data I had collected and published a final 361-day summary of my findings, along with a final complaint to the BBC about their blatant bias on BBC papers.
The final figures over 361 consecutive days was that Tory endorsed papers were discussed 65%, compared with Labour at 12% and Non-Affiliated 23%; Tory papers discussed over 5 times more than Labour endorsed papers.
In past BBC replies, they've told me there's nothing they can do when most mainstream newspapers are endorsing the Conservative party.
This doesn't however explain why the Morning Star has not featured in even one of the 361 episodes. It doesn't explain how BBC papers have over that time featured social media such as Buzz Feed and Huffington Post, or international newspapers.
In 2019 and with newspaper circulation nose diving, there clearly needs to be an overall in the program, to fairly represent the audience and the electorate, to re-address the balance when there is a growing and very significant proportion of society now just accessing their news from Social media.
It's criminal that hugely popular left-wing media outlets such as Skwawkbox, the Canary, Evolve, and Novara Media have never been featured on the BBC paper platform in 361 days of watching it.
It's high time the BBC recognises across the board the hugely influential and brilliant social media news media who have a mass readership and following who represent the present and future, and not the past.
SKWAWKBOX comment:
Chris Murphy's dedication and careful method in his monitoring of BBC output is to be applauded. His findings confirm the anecdotal experience of Labour supporters across the country – but they are no less staggering, or damning, for that.

Even worse is the failure of the broadcaster or Ofcom to engage in any meaningful way with an issue that can rightly be said to concern the heart of their reason for existing.

BBC bias against the left is not merely a matter of left-wing opinion. In spite of the many millions in this country who support left politics through their votes for the Labour Party, it is – and not for the first time – an empirically-established fact.
The SKWAWKBOX needs your support. This blog is provided free of charge but depends on the generosity of its readers to be viable. If you can afford to, please click here to arrange a one-off or modest monthly donation via PayPal or here for a monthly donation via GoCardless. Thanks for your solidarity so this blog can keep bringing you information the Establishment would prefer you not to know about.
If you wish to reblog this post for non-commercial use, you are welcome to do so – see here for more.