Former MP Smeeth accuses anti-Corbyn group of using antisemitism for political purposes as she scrambles to protect Starmer from CAA condemnation
Anti-Corbyn figures and groups are fighting among themselves today over Keir Starmer's astonishing, narcissistic use of the Holocaust Memorial as a backdrop for a self-promoting political video – and at least one of them appears to have committed the same 'sin' that Starmer used as his excuse for kicking his predecessor Jeremy Corbyn out of the party.
Starmer has been rightly condemned today after he and Labour tweeted the 'party political broadcast' showing Starmer and his foreign affairs spokesman wandering through the Holocaust Memorial as Starmer rambled about telling German politicians how he's going to make Brexit work – with leading German Jewish figures demanding to know what he thought he was doing using the memorial for his political videos without even mentioning the mass murder of millions of Jews.
And the CAA, the controversial charity that appeared to make the removal of Corbyn as Labour leader its mission, lambasted Starmer in similar terms in a tweet of a statement by its director Joe Glasman, who notoriously published a video after the 2019 general election boasting of how he and his allies had 'slaughtered' Corbyn. The statement reads: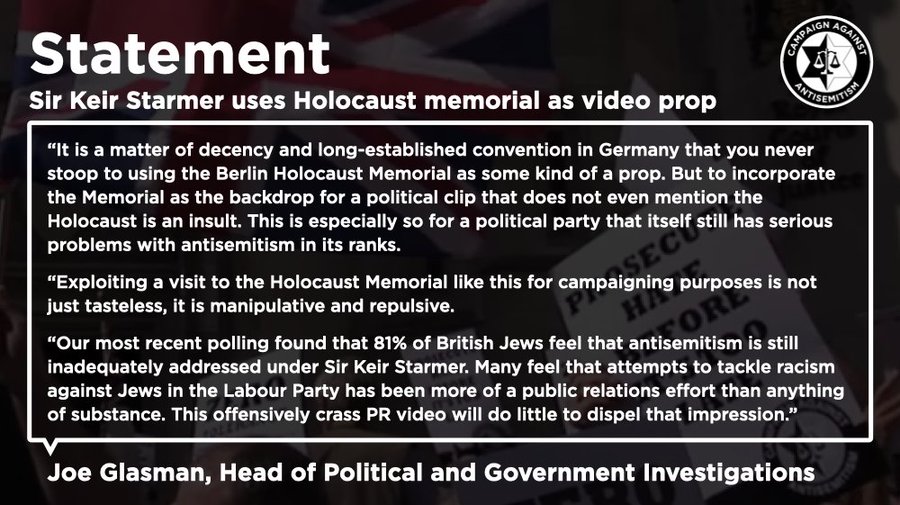 Cue Ruth Smeeth, the former right-wing Labour MP who regularly attacked Jeremy Corbyn and condemned left-wingers for saying Corbyn's enemies were 'weaponising' antisemitism, to jump in. Smeeth published a tweet in which she accused CAA and others of 'politicising' complaints about Starmer's insult to Jews to attack Starmer:
Jeremy Corbyn, of course, was reinstated by Labour's national executive, which rightly concluded he had said nothing wrong when he suggested that some accusations of antisemitism were made for political reasons – and Keir Starmer then shredded Labour's rules and the Equalities and Human Rights Commission's strictures by withdrawing the party 'whip' from Corbyn.
Smeeth also praised Starmer's record on 'fighting antisemitism'. Left-wing Jewish members purged by the Starmer regime might well disagree.
Skwawkbox view:
Starmer recently lauded Ruth Smeeth's return to the Labour party. It would be naive to expect he will apply the same standard to Ruth Smeeth, but the seriousness of his show of contempt for Jewish people and those murdered by the nazis is on show in the fight between people who united in their political hatred of his entirely non-antisemitic predecessor.
SKWAWKBOX needs your help. The site is provided free of charge but depends on the support of its readers to be viable. If you'd like to help it keep revealing the news as it is and not what the Establishment wants you to hear – and can afford to without hardship – please click here to arrange a one-off or modest monthly donation via PayPal or here to set up a monthly donation via GoCardless (SKWAWKBOX will contact you to confirm the GoCardless amount). Thanks for your solidarity so SKWAWKBOX can keep doing its job.
If you wish to republish this post for non-commercial use, you are welcome to do so – see here for more.