City council and mayor have refused to cancel event. Now protesters take matters into their own hands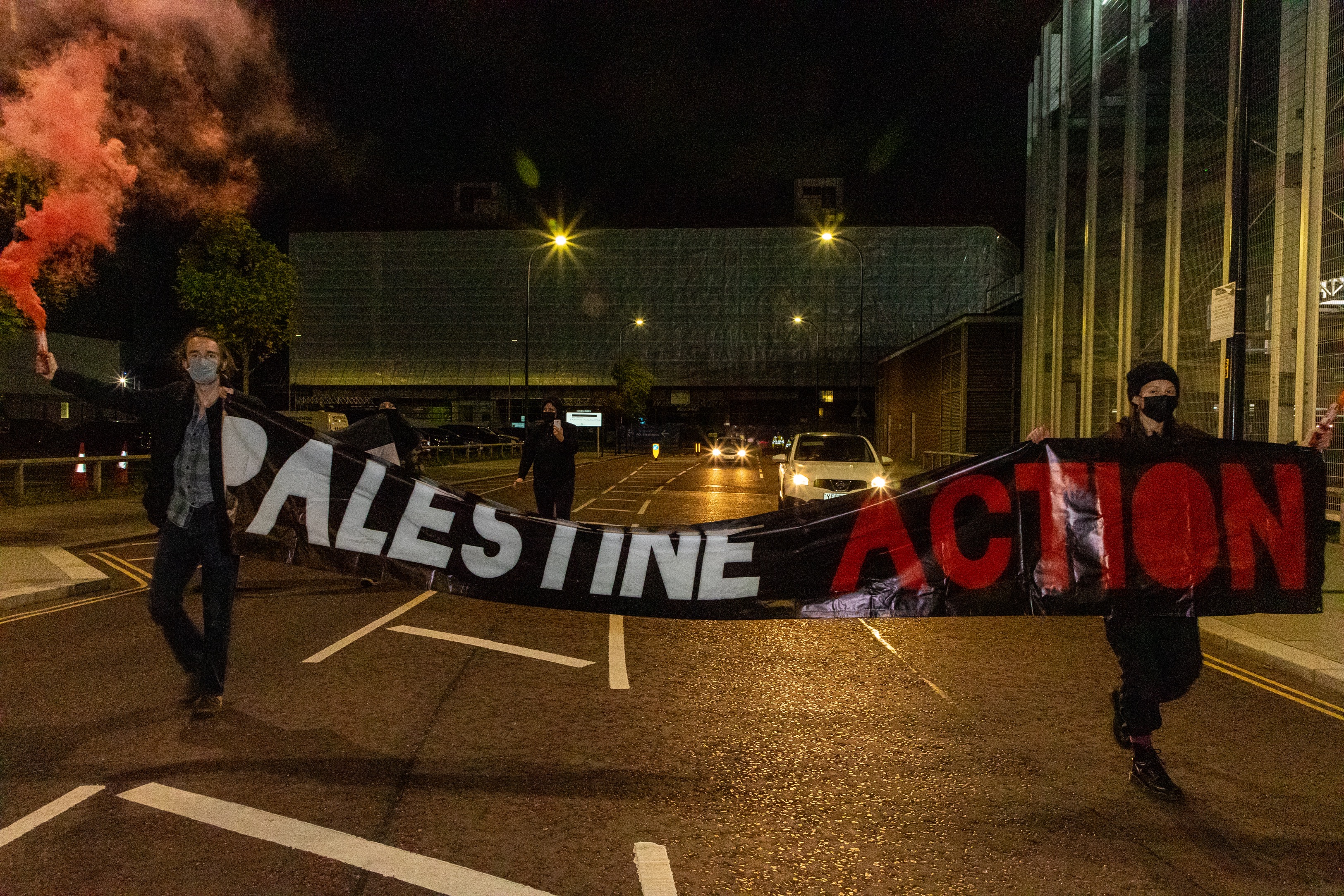 Protesters from Palestine Action have occupied the roof of the ACC exhibition centre in Liverpool, after the city's council and mayor refused to cancel the event at the council-owned centre, despite an 'ethical charter' pledge when last year's event was cancelled. The 2021 event is scheduled to start today.
The mayor claimed she and the council were powerless to intervene, despite the council's ownership, which means the council could sack the entire ACC board if it wished, and the cancellation of different past events – and despite mass protests by the people of the city and cancellations of other events by outraged organisers.
Now some protesters have taken matters into their own hands by direct action. Palestine Action have tweeted pictures and video of the protest and occupation:
Palestine Action is asking supporters to join them at the ACC.
The event is promoting electronic weapons such as drones that have been used by governments against civilians in Palestine, Yemen and other oppressed and occupied nations.
A statement issued by the group reads:
At the ACC Arena – the site of the Liverpool Arms Fair, which is due to commence tomorrow morning – activists have begun occupation of the event venue, to prevent the firms in attendance from conducting their business of bloodshed in Liverpool.

Due to appear at the fair – in attendee, key note speaker, and marketing capacities – are a number of the world's most morally despicable companies: from Elbit Systems, to ELTA, Raytheon, L3 Harris, BAE Systems and more. Fairs such as this would offer these companies the opportunity to showcase their products to governments and procurement agencies across the globe, and by holding these fairs in major cities in broad daylight, organisers are attempting to normalise their murderous operations.

Altogether, 4 Israeli arms firms and 13 International arms firms which supply the Israeli military were due to appear at the event. These firms are already complicit in war crimes, repression, and apartheid in Palestine, and it is immoral and insulting to then invite them to hold their discussions and sales talks in our towns and cities. Local residents, organising groups, and councillors have all spoken out against the arms fair, with protests taking place over the last month in an attempt to have the event cancelled. The council, event and venue organisers were all happy to ignore these calls – leaving direct action to stop the fair as the only viable option for activists.

After a dozen activists stormed the site at 19:00 Monday evening, two activists successfully scaled the building, and are occupying the ACC roof. Ahead of tomorrow's event, activists will endure police harrassment, intimidation, and removal attempts, and are hoping to prevent the arms fair from opening in the morning.

The action will continue as long as it can, and aims to be as disruptive as possible. A Palestine Action spokesperson has said the following:

"This event cannot be allowed to go ahead. Liverpool's residents don't want arms dealers and war criminals gathering in their city, and its presence is an insult to our Palestinian, Iraqi, Afghan citizens, and all others whose homelands have been devastated by the products of Raytheon, Elbit, ELTA, and the other despicable firms meeting in the ACC. After the council and event organisers failed to act, our activists have taken it upon themselves to uphold human rights by disrupting this festival of criminality."

This occupation of the ACC is an escalation of previous protests and actions taken across the city. After thousands gathered to voice their opposition to the event, other actions by Palestine Action have involved covering the venue in blood-red paint, but these calls to stop the arms fair have been ignored as organisers press ahead with this unwelcome and unethical meeting.
SKWAWKBOX needs your help. The site is provided free of charge but depends on the support of its readers to be viable. If you can afford to without hardship, please click here to arrange a one-off or modest monthly donation via PayPal or here to set up a monthly donation via GoCardless (SKWAWKBOX will contact you to confirm the GoCardless amount). Thanks for your solidarity so SKWAWKBOX can keep bringing you information the Establishment would prefer you not to know about.
If you wish to republish this post for non-commercial use, you are welcome to do so – see here for more.