PM's monstrous buffoonery as he makes quip about dying coronavirus patients
Boris Johnson has appalled even hard-bitten corporate CEOs with his appalling buffoonery, in a demonstration of his utter lack of concern for or connection with the suffering his failure to plan and failure to follow WHO guidelines have helped unless on the UK's people.
Johnson quipped during a conference call with engineering manufacturers about an emergency project to build ventilators – taking place only now because he and his cronies did not think to plan ahead for the inevitable requirement when the virus first hit – that the project could be called:
Operation Last Gasp.
The appalling comment was reported by Politico: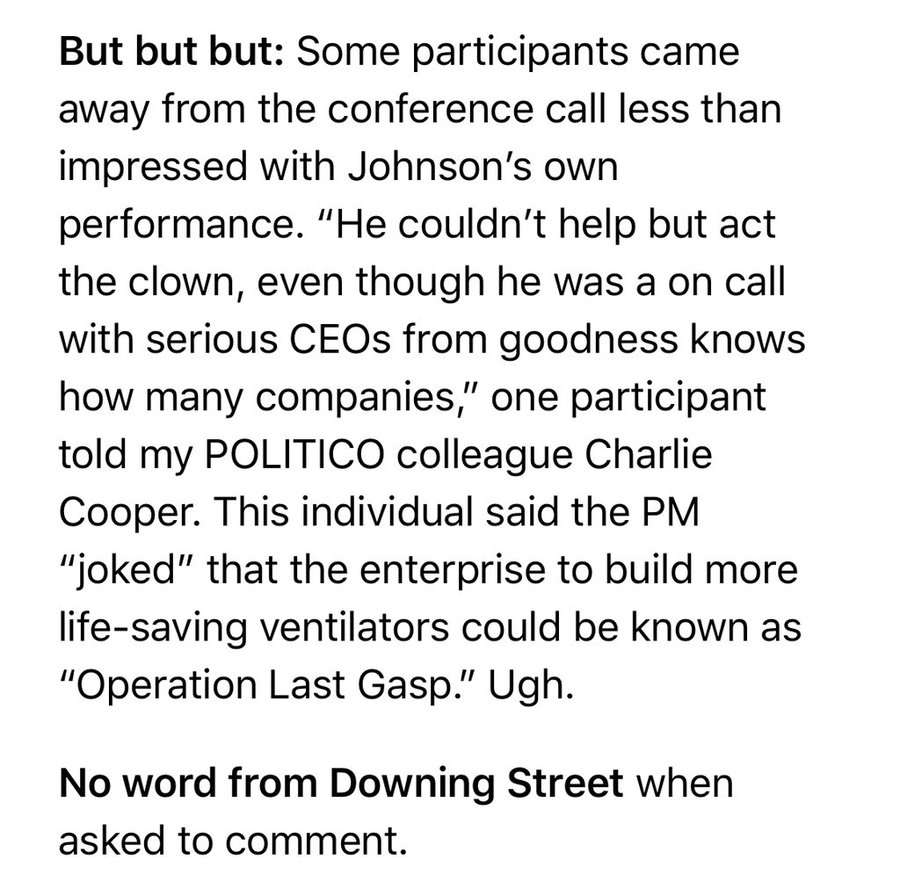 Richard Horton, editor of the Lancet, has made clear that the Tories have sat on their hands for weeks when preparations could have been made – and lives saved:
The government is rotten from the top down. Johnson is utterly unfit to sell raffle tickets, let alone run a county.
He is the joke – and a sick one.
The SKWAWKBOX needs your support. This blog is provided free of charge but depends on the generosity of its readers to be viable. If you can afford to, please click here to arrange a one-off or modest monthly donation via PayPal or here for a monthly donation via GoCardless. Thanks for your solidarity so this blog can keep bringing you information the Establishment would prefer you not to know about.
If you wish to reblog this post for non-commercial use, you are welcome to do so – see here for more.