Scarcely a week ago, the BBC disgraced itself by showing footage of black basketball star LeBron James when it announced the tragic death of basketball star Kobe Bryant, along with his daughter and several others in a helicopter crash.
And today, the BBC repeated its shame by using a picture of Labour MP Marsha de Cordova in an article about deputy leadership hopeful Dawn Butler.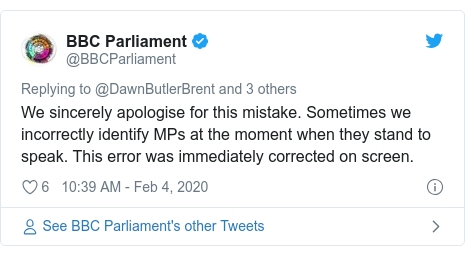 That blunder was covered by the Evening Standard in an article that was cloned by MSN's online news site – but the Standard had itself used a picture of a different and equally wrong black woman MP, as tweets of the article showed:
The Standard had correctly used a picture of Dawn Butler – but showed newly-elected colleague Bell Ribeiro-Addy instead of Ms de Cordova:
The Standard was forced to issue a humiliating correction and apology, though it blamed Getty for the initial mix-up:
Bell Ribeiro-Addy said later that the mix-ups demonstrated a lack of respect for black MPs. The presence of Tories in senior positions in both BBC current affairs output and the Evening Standard is surely coincidental.
The SKWAWKBOX needs your support. This blog is provided free of charge but depends on the generosity of its readers to be viable. If you can afford to, please click here to arrange a one-off or modest monthly donation via PayPal or here for a monthly donation via GoCardless. Thanks for your solidarity so this blog can keep bringing you information the Establishment would prefer you not to know about.
If you wish to reblog this post for non-commercial use, you are welcome to do so – see here for more.