Momentum founder and Long-Bailey campaign manager backs her support for BOD demand that black Jewish activist never rejoin Labour – but three years ago his assessment was very different
The SKWAWKBOX has been running a series of articles examining Jon Lansman's support of Rebecca Long-Bailey's decision to accept a list of ten demands by the Board of Deputies of British Jews (BOD) – and his own past articles that might fall foul of that list.
Momentum founder Lansman is managing Long-Bailey's leadership election campaign.
The first in the series looked at Lansman's tweeted approval of an article in which Long-Bailey said that a defensive response to accusations of racism was never acceptable, alongside Lansman's 2012 condemnation of the BOD's 'shame' when it complained about a newspaper cartoon it considered antisemitic.
The second revealed Lansman's anger at being asked about an article in which he discussed 'apartheid' in Israel and comparisons of Israel's policies with nazi Germany – and said that both had some 'validity'.
Now, the SKWAWKBOX examines a conflict between his current stance and his past output regarding the case of a black Jewish woman.
Ten 'pledges'
Earlier this week, Lansman supported an article by Rebecca Long-Bailey in which she committed to ten demands by the Board of Deputies of British Jews (BOD) – the fourth of which specifically names black Jewish activist Jackie Walker as an example of "prominent offenders" who must never be readmitted to the Labour Party: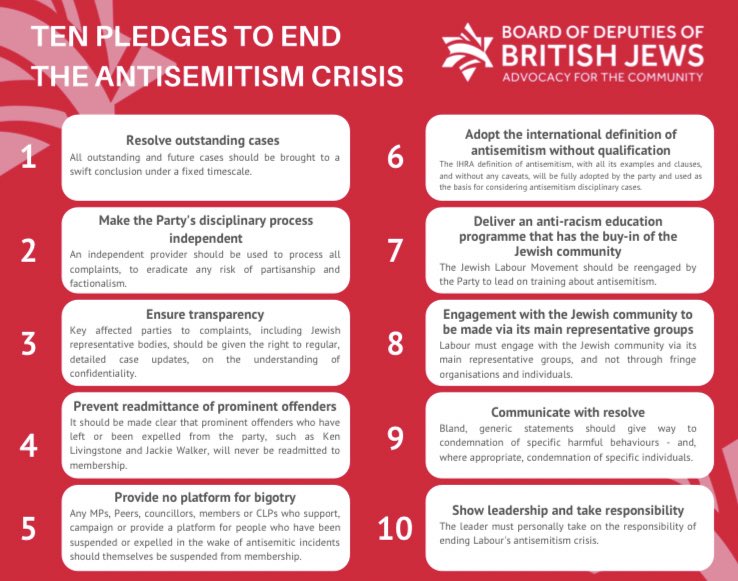 Three years, big difference
However, in 2016 Lansman wrote an article in which he attacked the "frenzied witch-hunt" against Jackie Walker, the black Jewish activist subsequently expelled from the Labour Party. Lansman did not stop there, describing Walker's critics as "a lynch mob" of attackers who were being "highly selective about racism" in the service of the aims of the Tories:
Unfortunately, it is hard to conduct a rational debate about antisemitism and other forms of racism in the presence of a "lynch mob" whose interest in combatting racism is highly selective. I refer to those who seek primarily to serve the interests of the Tory party, highlighting allegations of antisemitism in the days immediately prior to an election whilst simultaneously either ignoring or in some cases actively promoting islamophobia
Saying that in Ms Walker's case the party had been wrong in:
ticking the antisemitism box" and pressing the "suspension" button
Lansman went on:
Identifying real antisemitism is often not a simple matter, involving shades of grey not "black and white" judgements, which does not, in my view, justify a one-size-fits-all "zero-tolerance" approach. Antisemitism must not be judged solely on the words used but on tone and context. And whilst much greater awareness is needed of how the choice of language can alienate people and cause unnecessary offence (like the use of the word "Zionist") the most serious cases, the ones which should be dealt with most severely, do involve more than just a poor choice of language. Others are best dealt with by education and training, whilst some allegations turn out not to involve antisemitism at all…

Suspension from membership of the party does affect peoples' reputation. It was used in Jackie Walker's case by the media to validate suspicion. To use it routinely whilst denying the accused any prior notice of anything about the charge is like operating a system of justice without provision for bail or any hearing prior to imprisonment. It is wholly unacceptable that the Compliance Unit of the Labour Party is able to suspend based on the agreement of just two managers without the prior knowledge of the accused, and often denies the accused adequate information of what they are accused throughout the proceedings.
Lansman then says that the actions of Labour's Compliance Unit – then run under the authority of right-wing general secretary Iain McNicol – lead to "concern about a witch-hunt and directs it at the 'Israel lobby'", before pointing an accusing finger at both the Israel Advocacy Movement and the Campaign Against Antisemitism (CAA):
The action of the Compliance Unit unfortunately fuels concern about a witch-hunt and directs it the "Israel lobby" since on this occasion – unlike virtually every other – the accusation originally came from the Israel Advocacy Movement, an organisation that appears to be on the fundamentalist wing of pro-Israeli organisations. It is linked (through its chair) to the Campaign against Antisemitism which I have criticised before and has pretty robust views on British Muslims, based on a survey whose methodology has been criticised, that does little to promote better inter-faith relations and some would categorise as Islamophobic
Mr Lansman's article would be likely to fall foul of the current pattern of antisemitism complaints in a number of ways:
former Labour MP Chris Williamson was suspended – and ultimately deselected as a Labour candidate – after being accused of antisemitism for arranging a showing of WitchHunt, a film about Jackie Walker
Labour members are frequently accused of antisemitism for supporting either Walker or Williamson
mention of 'the Israel lobby' similarly leads to accusations of antisemitism
descriptions of Labour's accusers as selective or motivated by a desire to help the Conservative party routinely lead to accusations of antisemitism or 'denialism'
descriptions of those making complaints as a 'lynch mob' or a 'witch-hunt' are treated as evidence of antisemitism
The SKWAWKBOX contacted Jon Lansman to ask about his current support of Long-Bailey's commitment to a list that names Jackie Walker as a pariah who must never be allowed back into the Labour Party and the contrast with his previous criticism of a 'selective' 'lynch mob' attacking her.
Mr Lansman was asked:
The BOD specifically names Jackie Walker as someone who must never be allowed back into the Party. In 2016 you said suspending her was 'the wrong call', describing McNicol's disciplinary process as 'unfit', condemning the 'witch-hunt' and selective 'lynch mob' and even attributing it to the Israel Advocacy Movement.

[Yet] you supported Becky's support of the BOD pledges. Were you wrong in 2016 or are you wrong now?
In response, Lansman stated:
I was wrong in 2016.
SKWAWKBOX view:
Jon Lansman is managing Rebecca Long-Bailey's bid for the Labour leadership and praised her commitment to the BOD's demands – yet under those demands many of his own past comments would certainly lead to complaints if made by an ordinary Labour member.
The SKWAWKBOX needs your support. This blog is provided free of charge but depends on the generosity of its readers to be viable. If you can afford to, please click here to arrange a one-off or modest monthly donation via PayPal or here for a monthly donation via GoCardless. Thanks for your solidarity so this blog can keep bringing you information the Establishment would prefer you not to know about.
If you wish to reblog this post for non-commercial use, you are welcome to do so – see here for more.