Students assured in 2017 'not the same dangerous cladding'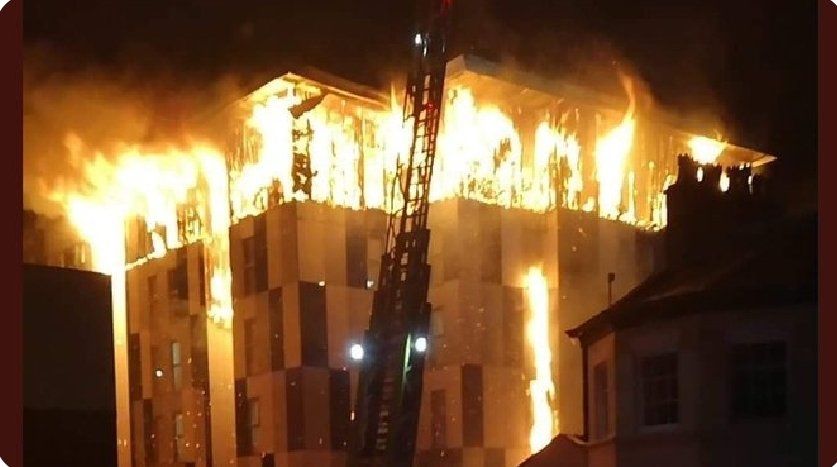 A tower block in Bolton has been consumed by a horrifying cladding fire – two years after students living there were told it wasn't the dangerous cladding used on Grenfell Tower:
All floors of the building were consumed.
At the time of writing, Tory leader Boris Johnson had not commented on the blaze.
Yet in the last hour at the time of writing, Sky News did not mention the blaze once – and BBC News' 16 seconds of coverage did not mention cladding at all:
The spread and ferocity of the fire is clear from footage:
Two people are reported to have been injured, but – thank God – nobody is said to have died.
Local media reported that the fire was 'crawling up the cladding' – and firefighter Andrew Scattergood was unequivocal:
Those affected were outraged at the lack of proper media attention:
The Labour Party has commented on the 'horrific reminder' the blaze represents, saying that the Tories have questions to answer:
Labour leader Jeremy Corbyn thanked emergency services and condemed the Tories' 'shameful inaction':
Update: at 9.31am, just after the writing of this article, BBC News gave three minutes of coverage to the Bolton blaze. Cladding was not mentioned once.
SKWAWKBOX view:
Why have the Tories done nothing about the clear danger of cladding on thousands of buildings in more than two years since the Grenfell disaster?

Why are the news broadcasters this morning talking at length about trivia and 'Westminster bubble' obsessions – yet giving no coverage whatsoever to the fact that cladding has consumed another residential block?

There is a general election happening. People deserve to be informed about the callous recklessness and disregard for the lives of ordinary people that is endemic in the Tory government.
The SKWAWKBOX needs your support. This blog is provided free of charge but depends on the generosity of its readers to be viable. If you can afford to, please click here to arrange a one-off or modest monthly donation via PayPal or here for a monthly donation via GoCardless. Thanks for your solidarity so this blog can keep bringing you information the Establishment would prefer you not to know about.
If you wish to reblog this post for non-commercial use, you are welcome to do so – see here for more.