Chelsea and Westminster Hospital removed display of plates painted by children in occupied Palestine after complaint by pro-Israel lobby group – but contrary to initial claims, no patients had complained and no minutes of the discussion about the decision were supposedly kept
In February, Chelsea and Westminster Hospital in London removed a display of plates painted by Palestinian children showing ordinary scenes in Gaza – supposedly because it had made Jewish patients feel 'vulnerable, harassed and victimised'.
But a Freedom of Information Act request by a dogged questioner has finally forced the hospital – after months of avoidance – to admit that it has not received a single complaint from Jewish patients. Hundreds of complaints were made about the removal of the artwork, but it has still not been restored:
The information requested by Liam O'Hare was provided by the hospital only after an intervention by the Information Commissioner's Office (ICO), the public body responsible for enforcing freedom of information rights. The full response reveals that the only complaint the hospital received about the artwork being in place was from the right-wing 'UK Lawyers for Israel' (UKLFI) lobby group.
UKLFI was recently condemned by the Palestine Solidarity Campaign (PSC) for inviting a representative of Regavim, the group co-founded by extremist Israeli government minister Bezalel Smotrich, to the UK. Regavim refuses to acknowledge that the Israeli occupation even exists; Smotrich has described LGBT Jews as 'beasts' and said that Ahed Tamimi, the then-17yo Palestinian girl arrested for trying to prevent Israeli soldiers entering her home, should be shot in the knees.
The hospital's full response claims that the decision to take down the images was entirely verbal, with no written response to UKLFI and no minutes or correspondence among the hospital management: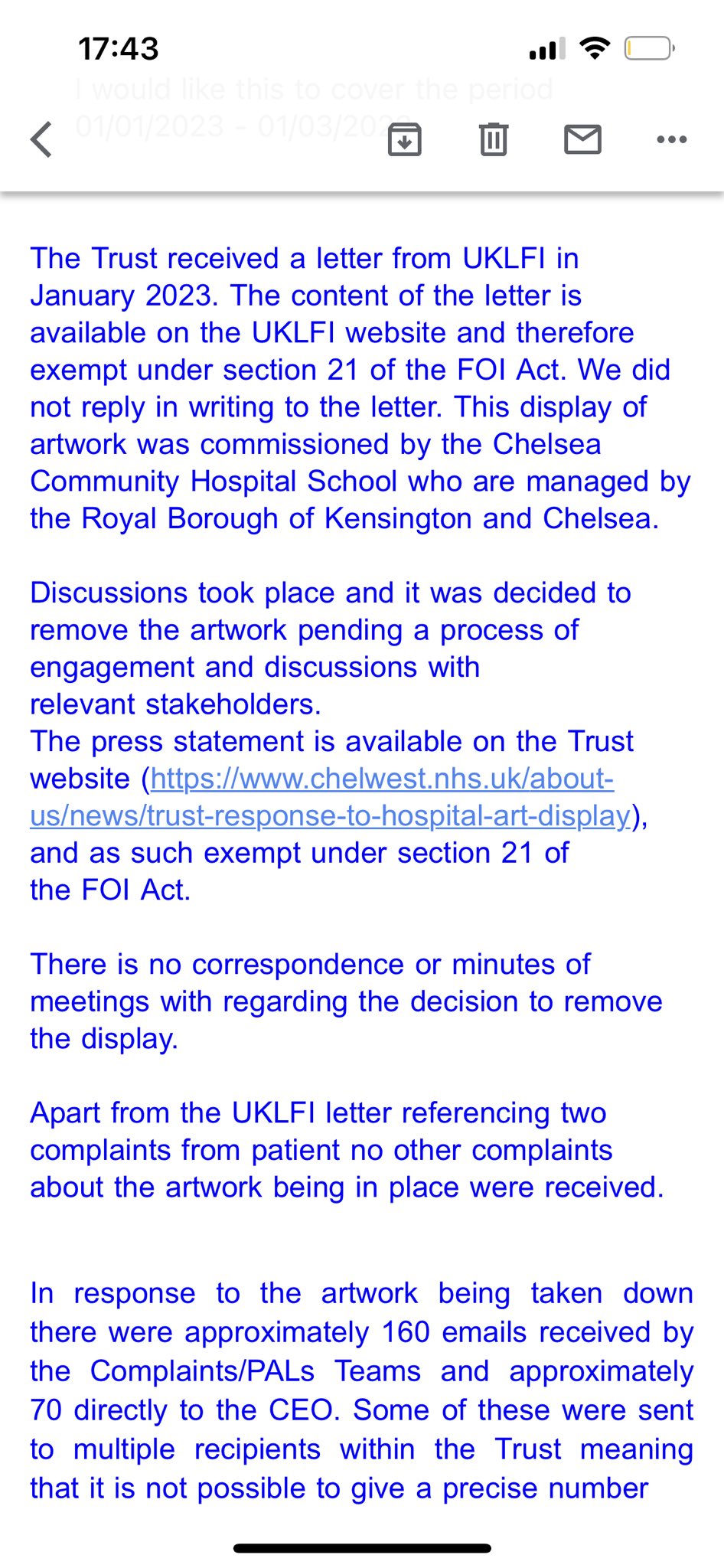 In tweets about the response, O'Hare said:
[The] Full response to my FOI from the trust below. They say the artwork was taken down pending a process of engagement with relevant stakeholders. There is no detail of what that process was and the artwork by children in Gaza remains censored by the hospital top brass.

Worth also mentioning that I only received a response from the Hospital Trust after I complained to the Information Commissioners Office. It appears they did not want to disclose the fact that they had no complaints.
An image of the display (provenance unknown) shows a set of innocuous images of people going about daily life:
It seems representing Palestinians as humans with work and the activities of ordinary people was enough to offend those who support the apartheid Israeli regime and to be presented as threatening, harassment and intimidation.
SKWAWKBOX needs your help. The site is provided free of charge but depends on the support of its readers to be viable. If you'd like to help it keep revealing the news as it is and not what the Establishment wants you to hear – and can afford to without hardship – please click here to arrange a one-off or modest monthly donation via PayPal or here to set up a monthly donation via GoCardless (SKWAWKBOX will contact you to confirm the GoCardless amount). Thanks for your solidarity so SKWAWKBOX can keep doing its job.
If you wish to republish this post for non-commercial use, you are welcome to do so – see here for more.