Starmer-supporting 'left' journalist's response described as 'non-denial denial'
Former left-wing scribbler Paul Mason, whose output has become increasingly bizarre since he started to back right-winger Keir Starmer – including attempts to justify arms sales on the basis that the bombs would only hit Russian 'genocidal rapists' – has published a tweet saying emails that show him discussing with an 'intelligence-adjacent' alleged agent provocateur how to take down a left news outlet that had embarrassed his contact and other left groups and individuals are 'highly likely' to be fake or tampered with.
Mason had been accused by the Grayzone of discussing a plan of 'relentless deplatforming' and lawfare – a 'full nuclear legal' attack – to destroy the outlet after it exposed the agent's activities in Syria. According to The Grayzone, Mason and the agent:
plotted to assemble a coalition of anti-Grayzone actors, including the US and UK government-funded "open source" outlet Bellingcat, which Mason revealingly described as a channel for "intel service input by proxy"
and discussed how to target the publication's 'objectives and vulnerabilities'. Mason also constructed a so-called 'dynamic map of the 'left' pro-Putin infosphere', with Jeremy Corbyn – whom Mason once claimed to support – right at the centre and, bizarrely, black Labour MP Diane Abbott on the 'map' apparently at random with no connections.
Just as bizarrely, the 'map' also includes Young Labour chair Jess Barnard, Corbyn's Peace and Justice Project, the 'Black Community', the 'Muslim Community' and the well-known Labour Left and others as supposedly 'pro-Putin':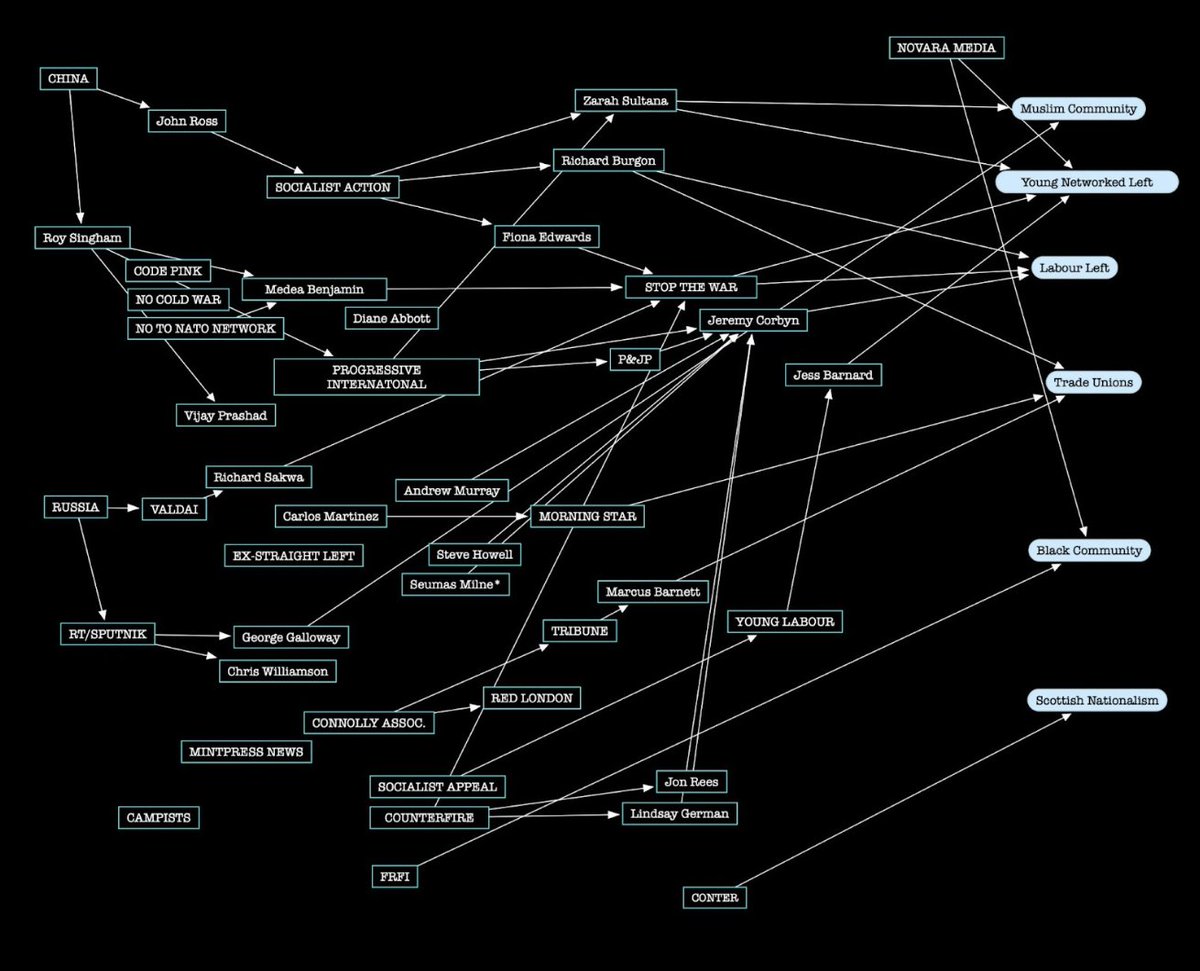 Barnard has commented publicly on her inclusion:
Mason's 'map' also targeted Novara Media, where he recently suffered what has been described as a meltdown after being challenged on his view that even a negative comment about NATO was at odds with membership of the Labour party – and should have 'greater consequences' than denying Palestinian oppression or helping the genocide of Yemenis, as one of his interviewers observed this morning in response to The Grayzone's revelation:
Asked by the publication to comment on the leaked emails, which it says it received anonymously, Mason refused to comment directly. However, he told The Grayzone – and published in a tweet of his own – not that the emails had been faked or altered, but that they 'may' be:
Kit Klarenberg, one of the authors of the Grayzone piece, described Mason's response as an 'incredible' 'non-denial denial':
In April, Paul Mason also launched an attack on Skwawkbox that backfired badly. If you would like to help that continue to backfire, please take a look at the article or see details below of how to support this site.
SKWAWKBOX needs your help. The site is provided free of charge but depends on the support of its readers to be viable. If you'd like to help it keep revealing the news as it is and not what the Establishment wants you to hear – and can afford to without hardship – please click here to arrange a one-off or modest monthly donation via PayPal or here to set up a monthly donation via GoCardless (SKWAWKBOX will contact you to confirm the GoCardless amount). Thanks for your solidarity so SKWAWKBOX can keep doing its job.
If you wish to republish this post for non-commercial use, you are welcome to do so – see here for more.