Lansman spoke at AWL event but doesn't qualify for exemption designed to protect right-winger
Momentum founder Jon Lansman faces expulsion from the party under new rules being railroaded through by the Labour right at today's meeting of the party's national executive.
The rules proscribing – kicking out – anyone with any association with Alliance for Workers' Liberty (AWL) have been written with one very specific exemption designed to protect right-wing henchman Luke Akehurst because he attended at least one AWL event: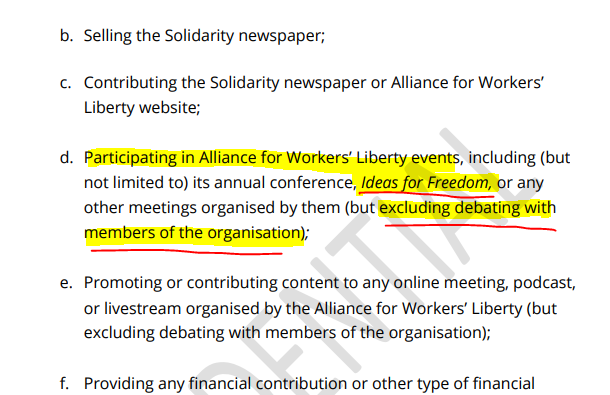 However, Lansman would not qualify for the exception as he was not at the same Ideas for Freedom event to argue against AWL, instead attending as one of the group's platformed speakers:
Of course, the hypocrisy of the Labour right being as shameless as it is, Lansman's involvement might well just be ignored – the former Momentum boss has been seen as siding with Starmer recently in attacks on Unite for criticising and defunding Starmer's party and MPs close to Lansman are now in Starmer's team, so he may be considered enough of a useful tool for them to keep him around. But if the right wants to settle scores and kick him out, the new rules give them an easy route for doing so.
Jon Lansman has previously told Skwawkbox not to contact him for comment.
SKWAWKBOX needs your help. The site is provided free of charge but depends on the support of its readers to be viable. If you'd like to help it keep revealing the news as it is and not what the Establishment wants you to hear – and can afford to without hardship – please click here to arrange a one-off or modest monthly donation via PayPal or here to set up a monthly donation via GoCardless (SKWAWKBOX will contact you to confirm the GoCardless amount). Thanks for your solidarity so SKWAWKBOX can keep doing its job.
If you wish to republish this post for non-commercial use, you are welcome to do so – see here for more.