'Nothing about us without us', says new group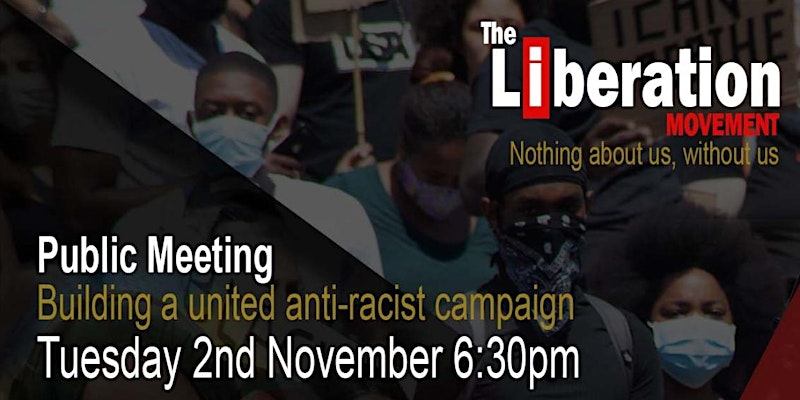 A new group launches tonight with an event in London's Conway Hall, to fight against all forms of racism. The Liberation Movement (TLM), which has sprung from the Grassroots Black Left (GBL) initiative in conjunction with other groups, says that it is needed because 'racism has never been starker in Britain' and that people of colour are often not only marginalised in responses to the situation, but actively targeted as part of the government's 'hostile environment':
Because of the current alarming manifestations of racism both in Britain and internationally, we need a united movement to defeat those whose aim is to divide black and white people in our communities, including in workplaces. Africans, Asians, Caribbeans and other people of colour are at the sharp end of racism, so it is they who should lead the fightback, supported by their white allies, as was seen during the Black Lives Matter protests. "Nothing about us, without us", as the saying goes.

People of colour, who include Africans, Asians and Caribbeans, make up around 14 per cent of Britain's population. Daily they face personal and systemic racism, including in the workplace, as evidenced by numerous reports like the milestone Macpherson one into the murder of Stephen Lawrence. The government deny this at their peril. Footballer and other black public figures have faced totally unacceptable racist abuse. This and all other form of racial discrimination must be stopped.

A specific trade unions presence was absent from the Black Lives Matter (BLM) demonstrations, the largest civil rights mobilisations ever seen in Britain. Progressive political parties were not involved either. Our new movement can put this right.

The BLM protests were mass-based mobilisation that happened day after day precisely because black, particularly the youth, organised and turned up for them, based on black self-organisation and self-determination which, in principle, are supported by the labour movement and others. Beyond police reform, BLM widened its demand to include the decolonisation of British history in general and educational curricula in particular.

Racism and inequality have never been starker in Britain and elsewhere. Grassroots Black Left, with their campaigning and pamphlets Black People Racism and the Covid-19 Pandemic and Black Workers in Health and Social Care: A Blueprint for Action, have laid bare how racism is at the heart of the pandemic. African Caribbean and Asian frontline workers and communities have disproportionately suffered as a result of Covid-19.

But despite the crisis, the government's racist "hostile environment" continues to scapegoat migrants, refugees and the Muslim community. Asylum seekers, including children, have been put in jail-like detention centres and deportation flights, chartered by the government, have continued despite the Windrush scandal. Many victims of the extremely avoidable Grenfell tower fire, that claimed at least 72 lives four years ago, were mainly African, Caribbean, Asian, migrants, refugees and poor people.

The disproportionate use of stop and search against black people, and the disturbing number of deaths of black people in police custody, has created bitterness and distrust towards the police. This has been made worse by a new law the government wants to pass to clampdown on peaceful Black Lives Matter, environmentalist and women's protests. We therefore support the #KilltheBill campaign. In the workplace, disparities in health and safety, pay, and conditions for African Caribbean and Asian workers are issues which the trade unions, to which they belong, are ideally placed to tackle.

The racist and fascist right are in government in some countries and are organising and growing their numbers among members of the public. British security services have said that the activities of neo-nazis and the far right pose the biggest domestic threat they have to combat.

Huge controversy was sparked by the television interview revelations of Meghan Markle and Prince Harry about racism at the very top of the British establishment and in the news media.

Trade unionists have a long record of being at the forefront of anti-racist campaigns and actions, including the Anti-Apartheid Movement, to oppose racism.

They can be most effective uniting with people of colour, including Africans, Asians and Caribbeans, to bring their anti-racist campaigning back "in-house". United together we can defeat the growth of racism, islamophobia and antisemitism and all other forms of hatred.
The event, which has the support of black Labour MP Clive Lewis and other prominent figures, will be chaired by GBL's Deborah Hobson and Cllr Hassan Ahmed and will feature speakers including:
lawyer and leading Windrush campaigner Jacqui McKenzie
Chantelle Lunt, who runs the Merseyside Black Lives Matter Alliance in Liverpool
Greens of Colour chair Azzees Minott
Suresh Grover, director of The Monitoring Group
Unite's political education coordinator Barry Faulkner
black Jewish filmmaker Orson Nava
Moshfiqur Noor of the Bangladesh Workers Council.
Register here.
TLM will supported the 'United Families and Friends' annual event about deaths in custody, which took place in Trafalgar Square last Saturday.
SKWAWKBOX needs your help. The site is provided free of charge but depends on the support of its readers to be viable. If you can afford to without hardship, please click here to arrange a one-off or modest monthly donation via PayPal or here to set up a monthly donation via GoCardless (SKWAWKBOX will contact you to confirm the GoCardless amount). Thanks for your solidarity so SKWAWKBOX can keep bringing you information the Establishment would prefer you not to know about.
If you wish to republish this post for non-commercial use, you are welcome to do so – see here for more.