Bomber's personal testimony confirms Labour leader's role in Good Friday peace process
As the SKWAWKBOX showed exclusively in 2017, Jeremy Corbyn's involvement in Northern Ireland encompassed discussions with both republican and loyalist figures – many at the request of the UK government, specifically then-Northern Ireland Secretary Mo Mowlam.
Corbyn played a vital role in negotiating the details of the release of loyalist and republican prisoners, which was one of three essential factors underpinning the eventual 'Good Friday Agreement'.
This involvement was challenged by the BBC's Andrew Neil during a 2017 interview with Corbyn when he quoted former IRA member Sean O'Callaghan's claim that Corbyn had played no role in the peace process.
But the SKWAWKBOX can exclusively reveal that Corbyn played exactly the role portrayed on this site, confirmed by a republican 'fixer' of irrefutable credentials.
In 1994, over a period of five days, the IRA conducted a series of no fewer than three attacks on Heathrow airport using home-made mortar bombs:
In 1998, Michael Gallagher was convicted over his involvement in a mortar attack on Heathrow Airport:
The same Mr Gallagher spoke at length to the SKWAWKBOX from the Irish Republic about his time in prison, about the debt he owed to Jeremy Corbyn – and to confirm that Corbyn did indeed tell the IRA to lay down their weapons to seek a political solution.
Mr Gallagher said:
I know from first hand experience how much Jeremy Corbyn was, and is, committed to the peace process in Ireland. I had personal contact with him while I was in HMP Long Lartin [a category A prison for republicans convicted of terror offences] serving a 20 years sentence for Irish politically-related activities. In that period, on either side of the Good Friday Agreement, he urged us Republican prisoners to move on, and to make our struggle exclusively political.

In those days there were a very few decent MPs on the Tory side, but a number of good Labour people. Tony Benn was one outstanding figure, but the pick of all of them was Jeremy Corbyn and his efforts to sort out the details of repatriation. I was released early and able to start a new life. I still run my own small business.

It's no exaggeration at all to say that without the repatriations there would have been no Good Friday Agreement – and without Corbyn there would have been no repatriations, so his involvement was absolutely crucial to everything that followed.

He would sit across the table from me – his assistant Valerie would be there as well – and tell us the only solution to the situation was political. And he would take a genuine interest in us as human beings. The contrast with how we were treated by many of the others couldn't have been bigger.

Listen, I was no angel in those days, but I could tell that Corbyn was the real deal and we trusted him – and he never let us down. I'm a living testimony to the fact that if you talk to people and treat them like human beings, the results can be dramatic – and far-reaching.
Mr Gallagher sent the SKWAWKBOX a copy of a letter he sent from prison in October 1998 to a contact in Ireland.
In the letter, which is marked "XK1660 A Wing", his prisoner number and location , he complains of the slack and aloof attitude of a visitor from the Ministry of Foreign Affairs, who was, he believed, only visiting for appearance's sake – and then contrasted that with the 'positive news' of a Corbyn visit:
This letter refers to Corbyn's role, which was subsequently confirmed, as an envoy between the British government and other interested parties, although – unsurprisingly – Gallagher did not know at the time that it was in fact then-NI Secretary Mo Mowlam who had asked him to fulfil this function.
This was confirmed by Keith and Valerie Veness, with Keith's account summarised here: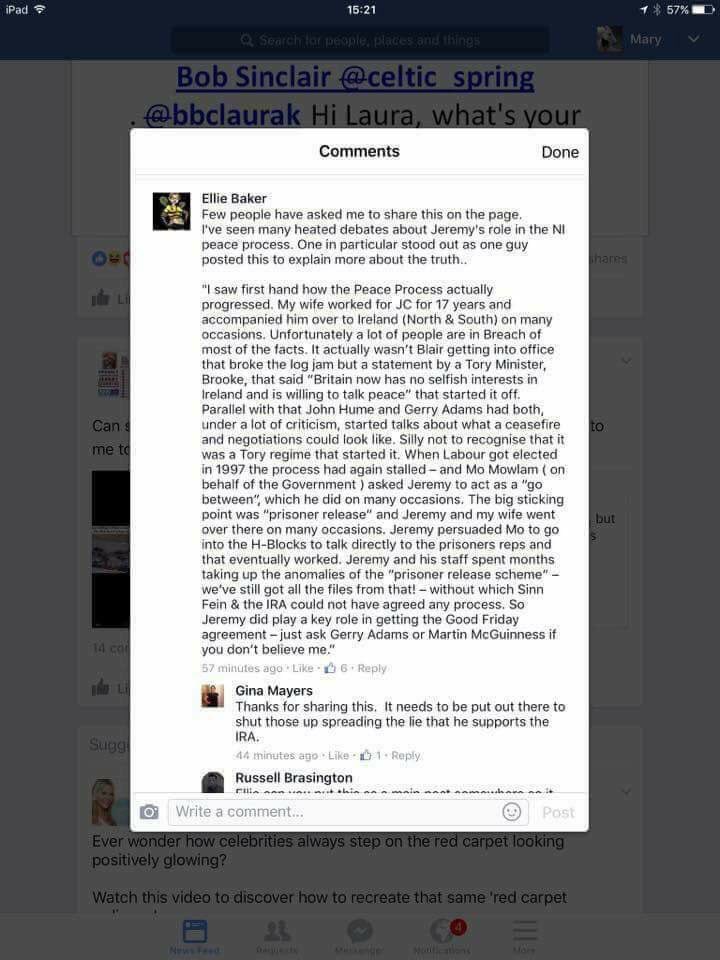 Mr Gallagher was absolutely adamant that, during these visits, Corbyn repeatedly asked him and other prisoners to abandon violence and to devote themselves to a political solution in Northern Ireland.
In both his testimony and evidence, Michael Gallagher confirms not only that Corbyn did exactly what his politically-motivated accusers claim he did not do, but also that Corbyn was acting as an envoy to allow the British Labour government to achieve its key aim of hammering out the details of the exchange and release of prisoners that eventually underpinned the whole of the historic peace agreement.
In one interview, Michael Gallagher put beyond doubt that, in performing this most challenging of functions, Jeremy Corbyn demonstrated strength of character and negotiating skills entirely absent from his opponents.
Mr Gallagher also had a parting message for Jeremy Corbyn, with whom he has not spoken in many years.
He wanted the SKWAWKBOX to let Corbyn know that he had seen him playing football with children in London – and to tell him that he could learn a thing or two from one Mick Gallagher. He even provided video evidence that made it hard to argue!
The SKWAWKBOX needs your support. This blog is provided free of charge but depends on the generosity of its readers to be viable. If you can afford to, please click here to arrange a one-off or modest monthly donation via PayPal or here for a monthly donation via GoCardless. Thanks for your solidarity so this blog can keep bringing you information the Establishment would prefer you not to know about.
If you wish to reblog this post for non-commercial use, you are welcome to do so – see here for more.