Right-wing Labour First's recommendations are always a useful guide to candidates members should go nowhere near
Following the election of two Labour left members of the party's National Executive Committee (NEC) as MPs at last month's general election – Claudia Webbe and Nav Mishra – two by-elections will take place to replace them on this vital committee.
Left-wing organisations have not yet finalised their list of recommended candidates for these positions and the BAME NEC representative that will be elected at the same time. However, the right-wing Labour First group has helpfully emailed its supporters with two recommendations – providing a reliable guide of candidates that the membership's left majority should not touch with a barge pole:
And as Labour First openly states, it thinks it has a chance of re-seizing control of the NEC – in spite of the left's vast majority among Labour members.
In 2017 both Baxter and Josan ran for the NEC as part of an 'independent' slate – whose Facebook ads were revealed to have been funded by… Labour First. Labour First had also arranged the 'independent' website.
In 2018, the pair were again part of a Labour First slate designed to deprive many Labour members of their democratic say.
And in 2020, they turn up again like the proverbial bad penny.
Johanna Baxter is the former NEC member that many Labour supporters consider closely associated with the infamous 'purge' of pro-Corbyn Labour members during Jeremy Corbyn's second leadership campaign: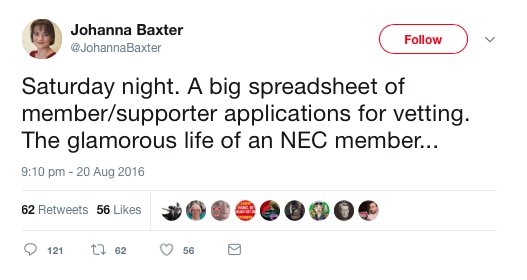 Gurinder Singh Josan is a Labour First stalwart close to its founder John Spellar MP, its secretary Luke Akehurst and the abysmal former Unite general secretary challenger Gerard Coyne.
In 2018, he was the subject of a bullying complaint when a blind local member complained that Josan had verbally attacked him for asking for evidence that delegates at a meeting were entitled to be there. When Spellar was recorded shouting at the same blind member during a different meeting, Josan could also be heard siding with Spellar.
The left candidates for the two replacement NEC members and the BAME representative are expected to be announced shortly. In the meantime, Labour members should note which two candidates to avoid.
The SKWAWKBOX needs your support. This blog is provided free of charge but depends on the generosity of its readers to be viable. If you can afford to, please click here to arrange a one-off or modest monthly donation via PayPal or here for a monthly donation via GoCardless. Thanks for your solidarity so this blog can keep bringing you information the Establishment would prefer you not to know about.
If you wish to reblog this post for non-commercial use, you are welcome to do so – see here for more.